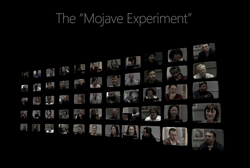 This week, Microsoft announced The Mojave Experiment—a test of the theory that consumers saw Vista in a negative light only because they saw Vista in a negative light. MS introduced a "new" OS under the name Mojave to a group of 140 users and let them play with it for a while. Later, it was unveiled that Mojave was really Vista. Gotcha, bitch!
Microsoft released the results on The Mojave Experiment website. And guess what? The shrewd folks working for Bill Gates were right! People hate Vista because they think they hate Vista, not because they hate Vista.
Need I even go over the glaring problems with the blind taste-test approach to advertising? No matter what the results, the audience will still be exposed only to what the company wants them to see, for one.
Still, 94% polled ranked Mojave higher than they had previously ranked Vista. The "study" occurred under the perfect conditions. Microsoft chose the ideal hardware. The users only had access to programs that would run smoothly. And they were walked through the OS by trained Microsoft employees. This ruse isn't fooling anyone.
But the really funny thing about this whole campaign is that it actually exposes why people legitimately hate Vista: It's no better than Windows XP; just different. So users can't do anything better with Vista than they could with XP. But because Vista is so different, they had to relearn how to do everything. Of course users who are being walked through Vista with an MS expert are going to like it better than their own untoured experiences of the bizarro Vista world.
The Vista blog asserts the experiment was "conducted on the fly" and "yielded interesting results." You know what, Microsoft? We in the post-advertising age don't like to be lied to. The campaign itself is bullshit, and so's this claim.