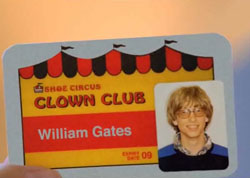 I like this new direction from Microsoft/agency Crispin Porter + Bogusky. Bogusky's scam—and it's a good one—is applied tastefully to the Microsoft marketing problem: MS is not as cool as Apple. Unfortunately, the real problem for MS is that Vista is not easy to use, save with much expert help, and MS Office 2007 is basically an insult to IT people and consumers. But with the marketing, I think we're making progress.
The Bogusky scam? Humanness. We had the Whopper Freakout scam where BK fanatics freaked out on camera (below). We had the Coke Zero scam where Coca-Cola "employees" (they were actors) approached various lawyers about suing Coke Zero (also below). All good scams. I like this one better.
The humanity is Seinfeldian in nature, but we know Seinfeld. It's Bill Gates who comes alive. Not that anyone who follows the news wouldn't know a lot about Bill Gates, his amazing success story, his humanitarian work, his philanthropic work, etc. This is very different. He's trying on Conquistadors. He's earning Big Top points. And when he adjusts his shorts, it is confirmed that MS will, in the future, be turning computers into cakes that we can eat:
Hammer time:
When Seinfeld sees Bill Gates in the store and goes in, we are prepared for irony. Already in a shoe store trying on day-to-day shoes, it's not hard for Seinfeld to establish Gates as an Everyman type of character. We realize at the register, however, that Gates is no ordinary guy when he flashes his platinum Shoe Circus Clown Club card to get his Big Top points. He's platinum. At the same time, sensible.
When we are taken outside the mall—at this point Seinfeld and Gates are eating what looks like meat on a stick—we are transitioned into the serious portion of the commercial. We are fed an extremely overwrought line about how smart Gates is (too celestial). Message: Gates is smart. Then Seinfeld asks whether is MS is going to come up with "something" that will turn our computers into cake so we can eat cake while we work. Gates, uh, "nods" his assent. Message: We're looking out for you, we know you want to have fun at your workstation/lifesupport/computer, and we want you to have your cake and eat it, too.
Congrats, Bogusky. Good messaging, good spot, good use of narrative, character and metaphor.
Problem is, MS needs to put its money where its mouth is. Vista is hard to use and buggy. We know they can build a good operating system because of XP, which was pretty awesome right from the start. And MS Office 2007 is, excuse my language, a fucking insult. None of the programs have any functional improvements, but all the commands are in different spots, making it virtually impossible to pick up for an MS Office 2004 expert. Question is, will life imitate art in this case? I hope so.
More Bogusky scams. The Whopper Freakout:

Coke Zero Scam: