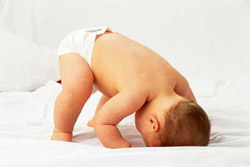 Parents do a lot of things to embarrass their kids. For its 30th anniversary, Huggies is giving moms everywhere a chance to do them on the Internet.
Generation Huggies kicked off last weekend with mom-first, celebrity-second actress Alison Sweeney, in New York City. (For those of you who hold TV to a higher standard, she's Samantha Brady on Days of Our Lives and hosts The Biggest Loser.) The nationwide campaign brings together digital and offline elements. A Huggies team is driving cross-country this October talking to moms about motherhood at video Creation Stations. From there, moms can upload their videos to the Generation Huggies website (or skip the whole thing and DIY). Thirty moms will be featured in an online ad campaign come January. (There's also a $30K sweepstakes. That covers a year of college tuition…almost.)
Furthermore, Huggies has partnered with TheMotherhood.com, a website where moms connect for advice and support. TheMotherhood.com now hosts Huggies-sponsored mom-bloggers who will blog live from all local Huggies events (brand-dropping like it's hot).
As one of the most popular diaper brands, Huggies is becoming a platform for mothers to discuss the trials and rewards of motherhood. The brand plus TheMotherhood lets mothers discuss what's useful and relevant to them and their lives. So far, the mommies love it. Generation Huggies has the most popular "circle" (forum) on TheMotherhood.com. It makes sense. Given moms' increasingly busy schedules (more of them than ever are working while raising children), they're going online more often for information and advice, and to connect with others. That's because Your Holiness, the Internet, makes it faster and easier than traditional methods. In the Internet age, the audience wants an immediate connection with the information and tools they need. In the post-advertising age, creating a platform for your audience to speak is better than speaking for them.