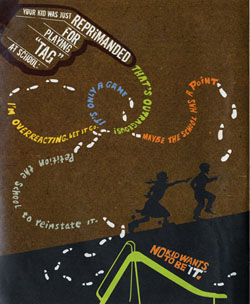 Post-advertising acolytes devote plenty of time to bashing the bankrupt practice of logo slapping, so it's heartwarming to have an opportunity to praise a marketer—global insurer Liberty Mutual—for deploying a variety of original content in multiple channels, all with a shared core story. Liberty Mutual and its agency—Interpublic's Hill, Holliday, Connors, Cosmopulos in Boston—deserve close attention for trying, at least, to abide by some of the laws of the post-advertising age.
Liberty Mutual's marketing is seemingly about standing for something substantive—doing the right thing. But Liberty Mutual's multi-year effort to tell stories of "responsibility" falls short of dealing responsibly with the issue the insurer is raising. It never tackles major issues and never connects the dots between what the insurer is advocating and how it behaves. Liberty Mutual succeeds in many ways; but so far it has backed away from the huge win it could have had.
The insurer first ventured into responsibility territory in 2006 with a story-like TV spot called "Anthem." The ad portrays a series of minor good deeds played out in the style of the 2000 hit Pay It Forward, all accompanied by a haunting song (the traditional folk band HEM's Half Acre). There are now some eight spots in the series. The original tagline was, "When it's people who do the right thing, they call it being responsible. When it's an insurance company, they call it Liberty Mutual." Lately, they have switched to, "Responsibility, what's your policy?"
John Cusolito, the insurer's vice president and manager of external relations, says the first ad stimulated an "overwhelmingly positive response" and "many of the people who contacted us were educators or…clergy" wanting to show the ad to their congregations or students. Those requests, Cusolito explains, dovetailed with feelings expressed by the insurer's employees, who had responded to previous internal surveys by describing Liberty Mutual this way: "Our company is about doing the right thing."
Out of these internal and external opinions was born The Responsibility Project, an array of media including original short films, blog entries and reader comments focused on doing the right thing. The project even found a temporary home in The New York Times Magazine, where an offbeat and visually inventive ad format was wrapped around Randy Cohen's column, The Ethicist. It was an inspired media placement, of course, because Cohen's column is all about doing the responsible thing.
But despite all this creative content, The Responsibility Project in its various guises sticks pretty relentlessly to the hopelessly trivial or non-controversial aspects of responsibility. And tellingly, it also shies away from telling any stories about Liberty Mutual doing the right thing.
One of the print ads demands to know where you stand on this burning question: "Your kid was just reprimanded for playing 'tag' at school." Readers are directed to the Responsibility site to post their opinions. I searched high and low for any mention of tag on the site and found no comments, which didn't surprise me. After all, who cares?
An original short film on the site, Tony, co-produced by George Clooney and the high-ticket Hollywood director Grant Heslove (Good Night and Good Luck) is the somewhat impenetrable story of a very ill boy whose dad and an army of volunteer strangers go to heroic lengths to find the boy's lost teddy bear named Tony. The strangers never get thanked, which is a problem in a movie about doing the right thing (even if the strangers, in their devotion to doing the right thing, wanted no thanks). But the bigger problem is this: Who doesn't believe that a dad should go all out for a very ill, possibly dying, kid?
Yes, from time to time, the giant insurer takes on something approaching real issues. Recent posts on its blog include a discussion of whether a New Jersey ShopRite was right to refuse a customer request to write "Happy Birthday Adolph Hitler" on a cake. (Sadly, it's true. The customers have a three-year-old they named Adolph Hitler Campbell.)
The problem with Tony, however, typifies the central problems with Liberty Mutual's overall approach: They have made a plausible claim to have the authority to publish on the subject of what constitutes responsible human behavior. But strangely absent from all this responsibility talk are the central questions of our lives: Is it responsible to live your life without working for a cause you believe in? Is it responsible to tolerate civilian deaths in war or should you protest? In Afghanistan? In Gaza? And so on.
Even more strangely absent are the central questions of Liberty Mutual's business—the stories of how, exactly, it does the right thing by its customers and their communities.
There is no shortage of serious questions about responsible behavior inside and beyond the marketer's walls. So is it responsible of The Responsibility Project not to take them on, particularly when the ads promise that they will?
Liberty Mutual's Cusolito says the project's focus is "really on individual acts of personal responsibility…the things that people do everyday versus major international issues, if you will." He says this focus grew organically out of the response to the original TV spot and the employees' beliefs about what the company stands for. Responding to incessant prodding from me about the pluses and minuses of taking on a substantive issue—any real issue—Cusolito adds, "I think that's a bigger question than just Liberty Mutual. That's probably a question that all sorts of companies face."
So let me be clear: Liberty Mutual's efforts are good as far as they go. From reflecting its employees' values to telling stories in multiple channels, the insurer has done a lot that is right. But as a result of not quite keeping the promises they make in their advertising, Liberty Mutual has blown a golden opportunity to make a real social contribution and to gain fame as a responsible arbiter of responsibility. Where it could have tied all it efforts together to build a mass discussion, it hasn't. (The TV spots, for example, never mention the Responsibility web site.) Where it could have launched a social movement to foster real responsibility; instead, it settled for creating decent advertising and letting a few people chat about their lives. Where it could have held its own conduct up for praise and blame, detailing how it does the right things everyday, it instead veered away.
Those kinds of contradictions can defeat any marketing effort in the post-advertising age.