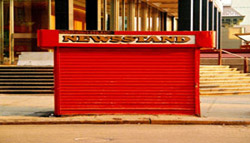 I've been working on this post for more than a week. I'm beginning to suffer from the writer's version of Stockholm syndrome—I've been taken hostage by my own ideas and I'm starting to identify with them even when they're bad. So I'm going to abandon the notion of explaining everything to everybody and just try to make my main point. In case it's gets lost, by the way, my main point is that traditional media need to get their heads out of their hidebound histories and redefine what advertising is. (You heard me: redefine advertising, not journalism.)
Traditional, ad-supported media's precipitous fall over the edge of the flat earth they have made for themselves is releasing a torrent of concern from everyone in the media business. Here at post-advertising, we love great television, believe newspaper-style journalism is critical to the world's well being and agonize over the collateral damage of traditional advertising's demise. So we want to do our part to help rescue the news business.
A couple weeks ago in a post titled "How NOT to Save Your Newspaper", I rejected Walter Isaacson's prescription for saving newspapers. Isaacson, like many others in the news business, thinks the solution is to make online readers pay "micro-charges." (See his Time magazine cover story "How To Save Your Newspaper.") But Isaacson's plan won't work because it's been demonstrated that the vast majority of online readers won't pay. Even if wishing would make it so, charging readers more can't be the whole answer. The news industry's first reaction to declines in ad revenue must be to look for more and different sources of ad revenue, not to chase away the majority of their audience by charging them.
This crisis, clearly looming for more than 25 years, finally has captured our collective attention. A lot of smart people have written a lot of smart stuff about the future of media. Among them is a recent blog post by Clay Shirky. You should read it all ("Newspapers and Thinking the Unthinkable"), but I'll summarize.
Shirky makes a crucial point with which I agree completely: "Society doesn't need newspapers. What we need is journalism." Real journalism (i.e., original reporting and careful editing) is a very expensive habit. (Here is what I wrote to tell Seth Godin exactly how expensive.) The pressing question is not how we save newspapers, but how we fund journalism as traditional advertising continues to go away. After enumerating all the strategies that have been tried and failed (including micro-charges for online readers), Shirky concludes:
"For the next few decades, journalism will be made up of overlapping special cases. Many of these models will rely on amateurs as researchers and writers. Many of these models will rely on sponsorship or grants or endowments instead of revenues…. Many of these models will fail. No one experiment is going to replace what we are now losing…but over time, the collection of new experiments that do work might give us the journalism we need."
I have a different take than Shirky. I believe we have the journalism we need (more or less). The primary problem here is cutbacks in traditional advertising. We are in the middle of a crisis in advertising, not journalism.
I know that daily newspaper readership in the US peaked in 1984 and has fallen by more than a third since. But during roughly the same period, readership of alternative newsweeklies nearly tripled, according to the Pew Research Center's invaluable annual report "The State of the News Media." More to the point, Pew reports, people reading news online exceeded people reading news in print in 2008. Virtually every worldwide survey of online activity ranks reading the news as the second or third most popular activity on the web (behind email). The sites of the big traditional journalism companies, print and broadcast, consistently rank near the top of the traffic charts and the time-spent-on-site metrics. Cable news audiences, of course, have exploded. Journalism's ability to attract and hold large and growing audiences isn't broken and doesn't need reinventing. (Journalism sure ain't perfect, but the myriad stuff that IS wrong with journalism is part of a much different conversation than this one.)
The news business's disaster comes from the blinkered and antique approach of its business side—the ad sales departments. By sticking to the outdated rules of a 400-plus-year-old print culture, the editorial departments aren't helping, either. But the heart of the problem is the narrow definition of what can constitute "advertising."
Old-fashioned ads are dying fast across all media, even online. The price of remnant online banner and display ads (a good indicator of current value) dropped 48% in the last quarter of 2008 compared to the same period a year earlier. These kinds of ads are rapidly devaluing because they are the web's imitation of traditional advertising; everyone knows that virtually no one pays attention to banners. Despite this, newspapers keep flogging away at the outmoded practice of selling space—peddling fractional pages in print and their moral equivalent, banners and display ads, online. This goes a long way toward explaining why newspapers have been unable to turn their growing online audiences into commensurate growth in ad revenue.
All these traditional advertising tactics are part of a withering marketing model. In the old model, publishers attracted an audience with engaging stories (news and entertainment) and then marketers were allowed to interrupt those stories with commercial messages. The interruptive model is failing and is being replaced with a new model that stresses engagement. Commercial messages must now be attractive, informative and engaging stories (news and entertainment) in their own right. They absolutely must deliver a valuable media experience to the audience—an experience that informs or entertains or, heaven forbid, does both. This is especially true online, where engaging experiences are the only form of communication that gets any attention or results. As all media—newspapers, magazines, TV, film, and so on—become digital and migrate to the web, the engagement model of marketing is becoming the only viable model.
It is now past time for newspapers to adopt the new marketing model—to redefine the advertising they carry in print and online as media experiences that are every bit as engaging as the news itself and that may even be, in many cases, the news itself. This will require these companies to add non-traditional marketing services to their skill set. Simply selling space won't do anymore. (All eyes in publishing, by the way, are on Meredith Publishing, home of Better Homes and Gardens, Ladies Home Journal and many other magazines, because they have acquired several marketing services firm in recent years, including the L.A.-based web shop Genex. But despite claiming to do integrated marketing, Meredith has failed so far, I'm told by insiders, to integrate these acquisitions into its magazine sales departments.)
Story happens to have a unique history as a place where journalism meets advertising to produce satisfying, authentic experiences for people and positive results for brands. Because of our history, we actually have one solution with the potential to turn old media into new media, creating new streams of revenue for journalism and entertainment. This is not the only solution. There must be other revenue-growing experiments that also will work. But this is one that I know will work now.
The difficult news is that old media companies will need to achieve a cultural makeover if they are to thrive in the new environment. One very destructive cultural icon of the current news culture is the ancient notion that editorial and business cannot work together without corrupting the truth and trustworthiness of journalism. It's simply not true and needs to change.
There are many examples that demonstrate how and why this isn't true, but let me just pick one. The various international print, online, video and mobile versions of Lexus magazine have been a trusted, award-winning source of reporting about unique, off-the–beaten track travel and cultural experiences for the past dozen years. Story's editors regularly cover boutique hotels, extraordinary restaurants and fascinating cultural experiences. Part of the magazine's credibility, of course, stems from the trust that Lexus owners place in the brand. They know driving a Lexus is a great experience; they have sufficient reason to believe that experiences recommended by Lexus will be equally deserving of their time and money. But another reason our journalism for Lexus can be so good and honest is that we use many of the same writers as the major travel magazines, but we do not rely on travel advertising to pay for the content in print or online. In that regard, of course, Lexus magazine can be far more independent than Condé Nast Traveler and all the other travel books which must get chain hotel ads or die.
The emerging agencies that practice content marketing stand for the proposition that marketers must be publishers if they are to attract and hold an audience. Brands must create engaging content covering subjects in which they have demonstrated expertise and authority. By doing so, they can provide value to audiences and advance the brand's business goals.
Whenever I explain this proposition to journalists, they immediately conclude that no reader will ever believe anything a brand says. I try to explain that in the public's mind there is very little difference between GE asking us to believe NBC News and a brand asking us to believe authentic stories in its marketing or on its web site. People, I explain, will trust what proves to be trustworthy. (And the biggest drawback to traditional ads—apart from irrelevance—is that they do not appear to be very trustworthy, by the way.)
The single biggest problem facing publishers, to paraphrase Will Rogers, is not what the traditional media managers don't know (about brands and marketing, for example), but what they know for sure that just ain't so (aout what constitutes advertising, for example). In other words, their biggest problem is their cultural mythology.
Just as brands need to be publishers, so publishers need to be marketing agencies that can create opportunities for brands to tell their stories, as well as helping to craft the stories they tell. At a moment in history when ads are giving ground fast to immersive and informative experiences, publishers need to quit selling space and start selling their ability to help tell and host media experiences. But why should that be so hard? It is, after all, what publishers are supposed to do: Tell stories.
Traditional media need to transform themselves at least partly into content-based marketing services organizations. They need gradually to quit working with media buying and advertising agencies, which keep relegating them to their traditional roles. They need to work directly with clients to define and solve marketing challenges and produce results. I know the devil here is in the details of each project and I know it's hard for both traditional marketers and publishers to wrap their heads around a new model. The first question I usually get when I start talking about these idea to journalists is, "What corporation is going to fund the Baghdad bureau?" One answer, of course, is we do not have to get every word of the news paid for by a marketer. But it is equally true that if we can generate added revenue from local car dealers by featuring their cars appropriately in stories about great weekend drive, to cite one example, we can spend some of that money on the Baghdad bureau just because it's a good idea.
Traditional media know how to create great content. Now they must learn how to customize and leverage that content to captivate an audience while driving marketing results for a client. Their content capabilities make them well suited to survival in the post-advertising age. But it's time to break with their tradition-bound history, take a chance, try an experiment and rise to the new challenge.
Photo by Jason Greenley.