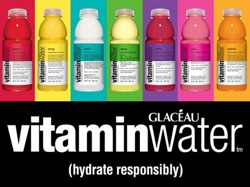 Last week, the popular health-promoting beverage company Vitaminwater put control in the hands of fans and consumers everywhere. For the launch of a new flavor, web users will pick everything from the taste to its vitamins and mineral combination, as well as the packaging, design and bottle copy. Talk about brand involvement!
Adweek's Todd Wasserman filed a report earlier this week on the campaign, which features celebrity judges 50 Cent and Carrie Underwood, who both have flavors named in their honor.
In three distinct stages, the process is a primary example of engaging and interacting with consumers on a level deeper than traditional campaigns offer. Their "Flavorcreator" Facebook app (in action until October 20th) leads off its social marketing charge. Eric Berniker, VP of marketing, calls it "eavesdropping": closely examining user behavior and feedback. In many ways, this stage is a controlled experiment in branding and consumer behavior.
A young brand itself, Vitaminwater knows that relying on traditional advertising methods alone won't keep its audience hooked for long. Instead, it has smartly used TV ads to drive traffic to its Facebook portal — snagging 450,000 captive fans.
Perpetuated by willing consumers, these campaigns succeed in creating longstanding, mutually beneficial relationships. Consumers gain satisfaction by participating. And brands, in return, gain the opportunity to strengthen brand loyalty through genuine collaboration and involvement.