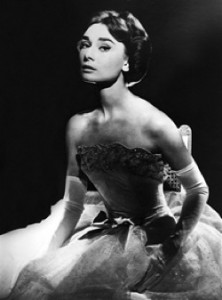 An article in last weekend's Financial Times showcasing an auction of antique designer dresses and accessories includes the sub-headline "Provenance is the most enticing factor." Kerry Taylor Auctions' "Passion for Fashion" in London on December 8th included an Audrey Hepburn collection, and interest was high: The black lace Givenchy cocktail dress Hepburn wore in How to Steal a Million fetched £60,000, more than three times what was estimated.
Of course, this isn't the first time that such legendary dresses have been big-ticket items at auction. The Givenchy dress Hepburn wore in Breakfast at Tiffany's sold for £467,200 at Christie's in 2006—and that falls well short of the £772,000 paid for the dress worn by Marilyn Monroe wore when she sang to John F. Kennedy. The buyers of these iconic pieces were not buying a dress; they weren't even buying a piece of history as the FT article indicates. They were buying bragging rights, known in today's parlance of the net as "pass-on currency." The value is in the story behind the dresses, not the dresses themselves, but what good is a story without an audience? Lessons can be learned by any brand and indeed form the foundation of our raison d'être, "Every brand has a story to tell. Those that tell it best, win." However, quite often it is the luxury brands that have the best stories, which I would argue is the very reason they have the right to claim the status of a luxury brand in the first place.
Take two brands Story has the privilege of working with, Fabergé and Lexus. The purchaser of a Fabergé item of jewellery is buying into a 150-year-history of Russian jewel-working tradition, and in particular the legendary story of the Imperial Easter Eggs commissioned by Tsar Alexander III for his wife. Equally, someone who buys a Lexus is not only buying world-class quality and reliability, they are buying into the Takumi tradition and the multitude of ways this relentless pursuit of perfection is expressed. For example, many car brands would claim piano-black paintwork but who other than Lexus would have the veneers laminated by the specialist piano craftsmen at Yamaha?
Geeky stuff, maybe, but these stories and stories like them are the original form of viral marketing. Brands that can find exciting ways to tell their unique stories provide ammunition for advocates, command unquestioned loyalty and create evangelical ambassadors.
The trick is to do this in a time frame slightly shorter than 150 years…