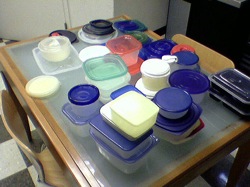 For the fine folks at Tupperware, pushing plastic has never been a stale experience. The brand—64 years young—has long used small, tightly knit social gatherings to seal the deal with customers. Appropriately, they're called "Tupperware parties" (hangover not included).
At such events, enthusiasts share products with family, friends, and neighbors; discuss how to use them; and, most importantly, build brand trust. Think a banner ad or TV spot can do all that?
According to The New York Times, Tupperware is in the midst of a makeover. And it's set its sights on women trying to get their men active in the kitchen. Parties are more interactive than ever: together, hosts and guests cook and then preserve their dishes in Tuperware (of course). It's no longer as simple as show-and-tell––guests, with the help of Tupperware reps (who are also, mind you, their friends), are kicking the tires and getting a better sense of the brand's special plastic. All this increased interaction during meetings is, along with a new line of modernized, multi-faceted products, meant to inspire a more gender-diverse cookery. Events typically last 90 minutes and bring in around $400 a pop.
And how about that zero ad-spend? CEO Rick Goings explains the reasoning behind it: "[Companies spend] millions of dollars on advertising and most people don't believe it. But if a woman hosts a Tupperware party, who goes? Friends, neighbors, and relatives—people she knows and trusts." It's these familiar faces that promote the brand in organic, word-of-mouth marketing—and very post-advertising. And that's an idea that can really hold up.

(image)