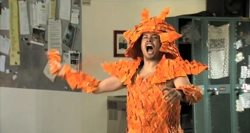 Earlier this year, AdLab critiqued The New York Times' assessment of Super Bowl advertising, which described a coup of Madison Avenue. It recognized that brands are in the hands of consumers. Imagine that!
But, as we've covered before (a few times), brands like Doritos have empowered consumers for a while—and this year the brand again surrendered its Sunday-afternoon timeslots to worthy consumer-created videos in its annual Crash the Super Bowl contest. But while article might suggest that moves like this could complete replace professional marketing services, really, it's agency professionals in the driver's seat.
The news isn't that vigilante consumers are hijacking Madison Avenue. Rather, it's that the role of brands aided by new-age marketers is changing to reflect consumers' increasing desire to get involved.
But it's not magic. These campaigns are born of forward-thinking agencies and a brand's cooperation. As consumer content takes the stage, the marketing behind it becomes less visible but is no less crucial. And agencies stuck in unengaged mindset, of course, will bite the dust.
The author's second point concerns content itself. It's no surprise that Doritos' winning entries were produced by industry creatives—aspiring filmmakers not your neighborhood postman.
So does this mean it should be considered any less consumer-generated? Sure, it might not make for as sweet a Cinderella story, but within the given medium (TV) top spots were bound to come from such sources. In this day and age, these folks are looking for any opportunity to get a foot in the door. And they're the ones who will likely win.
Crowdsourcing, after all, is about drawing the best ideas and work out of the public. It's also not, as The Times implies, resulting in public mutiny. Marketers are far from being tossed overboard. Instead, it demonstrates the great opportunity for brands to include the average Joe. It's an investment for brands that will make the audience feel invested as well. And this way, everyone wins.