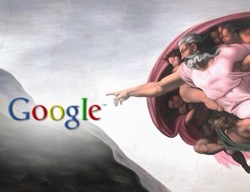 The Atlantic's June cover story lavishes praise on Google, pointing to the search giant as the woeful news industry's surefire ticket back to profitability. This is a nice idea—one that helps us all sleep a little better at night—but in reality, Google doesn't have any concrete solutions yet. Rather, author's optimism springs from a general feeling he got from interviewing Google execs. They seems to really care about the news. According to a piece by our very own Kirk Cheyfitz (CEO here at Story) published over at Huffington Post, Google has actually done little to help foster the meaningful, dynamic, and entertaining ad content that can support quality journalism. With a monopoly on search, they're engorged by stale, old-world web advertising. Is Google here to help?
The Atlantic piece points to low "display advertising" revenue as central to the battered industry's dillema. And while Google is developing new systems to maximize display ad sales, simply making display space more valuabe and visually appealing is missing the point: online advertising has to find new ways to actually engage a constituency with mutual value exchange. For online advertising to support the news, engagement must be the rule, not the exception. The idea that Google's going to bail out the publishing industry is just the newest in a long line of excuses and refusals.
At the same time, much like the expected salvation from Apple's iPad, publishers are in denial about another root of the problem (hint: themselves). They have to develop relevant content for a new era. For the iPad, this means applications that offer up unique benefits. Google isn't goint to lay the golden egg—the publishing industry must develop new means of engaging brands with their readership, bringing eyeballs back to the page by exploring new and genuinely exciting formats, mediums, and variations—it's the only way forward.