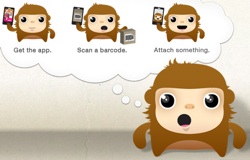 Another week, another mobile app. A little program called Stickybits (available for iPhones and Androids) caused a stir at last month's SXSW and promises to open up a new world of brand engagement. For better or for worse.
The free mobile application uses barcodes as conversation centers, to breathe life into everyday products. After downloading the app, users can scan a code and tag their own content (text, photos, music, video) to each item, and access whatever's already been attached. Add a video greeting to the Mother's Day card you send, for example (if you can teach Mom to download an app and scan the barcode.)
Beyond the social implications, there's great potential for brands to play along. Post recipes on your cereal boxes, stick coupons on soda cans, attach movie trailers to DVD cases…you get the idea. Forward-thinking branders will stake claim to this new virtual property early on, and initiate meaningful conversations. If managed and adorned right, such barcodes and UPC's could become the doorways to hiddens world of branded gems and addictive engagement.
There is also, of course, the potential for deadly brandjacking. Envision, if you will, shots of oil-slicked ducks stuck to BP products, or pornography prank-tagged to Disney's family-friendly DVDs for all to find. Presumably, ways to manage this effectively will emerge, but freedom of speech entails risk.

We think this technology is a potential game-changer, for better or worse. It enables products to become hyperlocal experiences, centering brand conversations at the point of intrigue. Since users seek out (and opt into) the experience, great content will score more attention for a brand. In return, consumers gain things they can actually use (get a review of that book right now, before you commit) and a chance to express their opinioin to all potential buyers.
As everywhere else in a social-media-wired world, if brands want to play here they will have to offer up content that's substantial enough to earn consumer respect and involvement. Hyperlocal applications like Stickybits (and others, such as Foursquare) are quickly ushering in an age of global brand conversation taking place at any point of interest…The indifferent and the fearful risk being left out of the conversation completely.