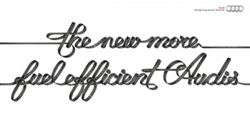 Lightweight, clever and infectious—we're seeing more and more of these quick-hit post-advertising efforts as of late, wherein a brand takes a backseat to a smart and addictive concept. Exhibit A: Audi, who've created the Efficient Films twitter meme to celebrate films and twitter as a brisk storytelling medium. And, oh yeah, Audi's equally efficient new clean diesel powered A3 TDI. Daryl at Brandflakes for Breakfast served up some initial insight about the effort. The goal is simple: have users tweet out clever movie summations in 140 characters or less—the wittier, the better—and add these synopses to the heap with the #EfficientFilm tag. The movie title is visible below each tweet when viewed on the site's homepage.
It's an infectious hash tag that feels like an organically trended topic. And with a platform so lightly branded, it comes across as fun and harmless, rather than an insidious marketing exercise.  The only nod comes by way of a short footnote, simply reminding us of who came up the entertaining concept and how it relates—however tenuously—to their brand and product.
Compare this to the more grandiose Womanity, which asks visitors the question, "What does 'Womanity' mean to you?" Responses are shared and compiled in a similar manner, with little mention of the company masterminding the project (perfume brand Thierry Mugler). It's the kind of concept that, besides costing very little to execute, has a great deal of viral potential.