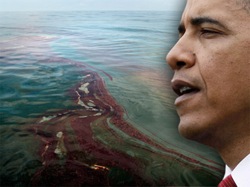 We know, we know—we sound like a broken record with our endless exhortations to brands to stop advertising and start earnestly "engaging." But this time we really, really, mean it. As if BP's strict doctrine of non-engagement weren't enough (they're our newest inductee into the Post Advertising Hall-of-Shame), it has now been reported that the brand has thrown some 50 million dollars at protecting and managing their image with a series of melancholy TV spots. We're not the only ones moaning about this. The President—among others—called them out on it this past week.
Obama sent a clear message: stop telling us how sorry you are—nobody's buying it, anyway—and focus your attention and money on the problem at hand. Advertise through the transparency of your own action.
According to a new report from The Week, BP is also shelling out big bucks for search engine hegemony. They're paying Google, Bing, and Yahoo to boost their corporate-run response page to the top of search results in an effort to dominate the conversation. As a result, BP's Gulf of Mexico Response page is granted top billing for searches such as "Oil spill," "Louisiana coast spill," and  "BP disaster." It is estimated that they're spending $7,500 a day for their Google placements alone.
Is it possible that $50 million in traditional media plus daily search term buyouts are actually worsening the brand's reputation?
Of course it's impossible to gauge how much worse public sentiment towards BP would be if they hadn't advertised in the first place, but it certainly feels like an awful waste. It's likely no amount of traditional advertising could save their image at this point—these efforts further alienate consumers who believe the PR funds should be put towards the gulf clean up itself. All the while, BP is ignoring all of the free social engagement that's available to them. As such, brandjackers like @BPGlobalPR (a fake, and often hilarious twitter feed) are dominating the conversation.
What could BP possibly do next…put up billboards? Actually, Looks like they already have some help in that department.
Here's the honest truth: In spending time and money in an attempt to control the spew of bad press––instead of the oil itself––BP will inevitably end up soaking in it.
(image)