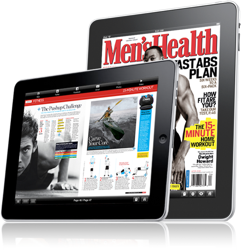 Remember when the iPad was set to revolutionize, reinvigorate, and single-handedly save the publishing world? Just a scant four months ago magazines, under the spell of this magical thinking, began importing their rags onto the iPad only to sit back and wait for salvation. Well, as we all know, pasting pre-existing pages into a scrollable touch format hasn't saved anyone's keister. But with time, publishers are catching on—the latest round of magazines gone digital offer hope that this industry can regain its footing amid instant publishing and consumer-generated content. We run down our newest favorites after the jump…
Top of the list are recent rollouts by two long-running fitness pubs: Men's Health (Rodale) and SELF (Condé Nast). They've begun selling apps on the iPad and iPhone—no, not recycled page scans, but repurposed editorial mixed with dynamic and original content. Acting as a natural extension of the brand, these new installments come packed with visual aids for exercises, iPad exclusives, and new ways to share content with friends (aka: reasons for readers to care again).
The Men's Health application focuses on enhancing the publication with as much complementary, value-added content as possible—more dazzling in the long run than the fancy-but-impractical design work of many other digital iterations. SELF's strategy includes SELF Workouts ($1.99), an iPhone application existing independently from the regular magazine offering up fresh content in the form of work out videos and tools, meant to help get you in shape (and strengthen your bond with, and trust in the SELF name).
Newsy apps from the BBC and Reuters are also winning praise and readership.
These join only a handful of other apps that have forward-thinking digital platforms—most notably, iPad apps from Marvel (as seen as the exception in Kirk Cheyfitz's earlier post: 'The Main Problem with iPad? Publishers') and Wired. The latter sold 24,000 copies in its first day and went on to outsell the newsstand edition its first month 96k to 80k, as some anticipated.
Wired has upped the ante for their July 2010 issue: Offering a cheaper subscription price, the ability to buy back issues and store multiple months in the same app, an in-app browser to keep readers engaged in the experience and other pad-exclusive bits, it's perhaps the strongest argument for paid digital content yet.
If publishers begin to embrace the iPad en masse—not as the printed word repository it currently is, but as an outlet and means to make the transition to an entirely new level of content and branding (Wired's includes dynamic ads and 360 degree product interaction)—pubs may finally save themselves. Imagine that.