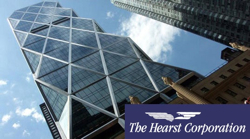 Well, well, well. Looks like grand old guard of media's past, Hearst Corporation, has given up the ghost and accepted the new world order. It can be ignored no longer: marketers and brands are fast encroaching on publishing territory as they morph into full-fledged content providers ('Every Company = Media Company'). So, what are cash-strapped media-making giants like Hearst (and others, such as Meredith) to do? Warning: pigs will fly.

According to James Erik Abels at Three Minute Media, brands like Pepsi, Kraft, and American Express are making the transformation into full-fledged media entities. And they're becoming publishers of original content with the help of, well, publishers—the ones that do it best. Yes, media conglomos like Hearst are now offering much more than adjacencies—they're selling their editorial might as a service, as a way to help develop and implement grade-A content on a given brand's behest.
But this shift hasn't occurred without incident. After Pepsi partnered with Seed Media and ScienceBlogs for Food Frontiers, readers rose up and killed the blog a mere 48 hours after its launch.
Does buddying up with brand names to create original content erode a public's trust in a publisher's own brand of output? What's the right mixture of media and marketing? Going forward, as brands become more competent as creators, what will the publishing landscape look like?
Watch the full report here, and leave your predictions and premonitions in the comments.