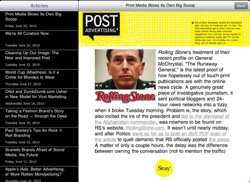 The official Post Advertising iPad application has arrived! Our brand new app is now available at the App Store. Rated 9+ for "Infrequent/Mild Profanity or Crude Humor," and boasting "Mature/Suggestive Themes," it's a slab of genuine, uninterrupted Post Ad goodness formatted specifically for your tablet. Oh, and it's free. Of course, we've criticized unimaginative publishers importing their print content wholesale onto the iPad, while lavishing praise on honest-to-goodness innovation. Will our app live up to our own standards?
No longer do you, beleaguered tech lover, have to suffer through your days without a proper standalone, quasi-mobile version of your favorite marketing blog. You can browse posts in real time, scope embedded video content, follow related links, and submit your own examples of post advertising, all while remaining within the PA application.
Coming soon: sharing functionality, Twitter tie-ins, and comments. And not far off is an iPhone version (Apple-willing, of course). For now, the iPad app is just an easy, elegant way to peruse our pages. No pop ups, no tabbed windows, no signs of lesser-blogs. No interruptions to speak of.
We've passed our own fair share of judgement on other iPad apps in these pages, so now we're ready for the firing squad. If you're a proud iPad owner, give our new app a whirl and let us know what you think in the comments section. What makes for the perfect blog app?