"Art in Advertising!…why would anyone do that after Warhol?"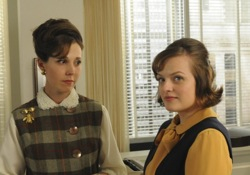 Last night marked another new episode of everyone's favorite ad land drama,
Mad Men
. While things haven't quite picked up plot-wise, the show continues to interweave real 60′s-era brands into the show's story-line and beat the drum for its sponsors. Call it prime-time ad integration, brand assimilation or what-have-you, it's a total advertiser's love fest. Our expert analysis after the jump.


6 more
Mad Men
-branded factoids peppered the commercial breaks in another attempt to capitalize on the audience's penchant for placement. This again included, most prominently, Bridgestone and BMW, as well as Hotels.com — a brand that definitely wasn't around 45-odd years ago (they give a general fact about hotels).

The now-requisite MM parody spot also appeared, perpetrated this time by Suave and littered with cheese.

As far the actual episode is considered, the most pertinent topics and questions addressed included:
-Rejection. Cold, hard rejection.
-How not to break up with a client (as illustrated by the still-dweebish Pete Campbell)
-How to pressure said client into more business by leveraging your newborn (again, our man Pete)
-The subject of art vs. commerce (see quote above, as uttered by artiste David Kellogg)
-Focus groups: milking emotion out of a group of women by appearing trustworthy (and why Don thinks it's fiddle-faddle)
-Why sleeping with your secretary is often a bad idea
The one question we're beginning to ask ourselves is this: are people really interested in fictional ad campaigns for products like Pond's Cold Cream and Lucky Strike? Are they elated and intensely fascinated to see the advertisements that support the show? Or, are they just interested in the ubiquitous persuaders themselves, and their (by all means) suspect line of work?
AMC seems to think it's their golden opportunity to rope in and relate present-day advertisers to consumers; we think it's but a cautionary tale and weekly reminder for post-ad men and consumers alike, as we move further away from those musky, most interruptive days of yore.
Leave us your thoughts below, then head on over to Vulture for more exceptional insight on this week's episode.