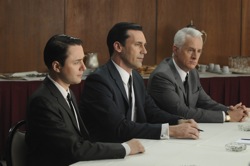 It's that time of the week — a new episode of your favorite primetime drama about the most despicable industry of all: advertising! This week's entry in the Mad Men canon featured a plethora of both family and ad-related dramatics, and continued the insertion of an increasingly high-profile array of real-life brands opting (we'd assume) into the show's historically hyper-accurate format. Read on for our behind-the-copy take on the hour's events — especially the breaks that littered it.
This week's episode was actually, in many respects, quite endearing. Perhaps at the bequest of one of our recent commentors (shout out to S. Zargari!), the main story arch followed a pitch (in this case, for Honda) from inception to its ingenious, nonexistent final concept.
And then there were the usual suspects — the show's same few sponsors and their now-repetitive (but relevant!) barrage of commercials. At this point, the ads are either too personalized to the content and context of the show (and, as such, often out of touch with their present-day consumer), or entirely unrelated.
This again included Hotels.com, Clorox, Chase and Unilever in spots primed and prefaced by factoid fuzz — sometimes much to the dismay of their target audience (for example: Clorox's alignment with adultery). For some, it meant running the same commercial repeatedly (how ironic).
Well, what happened in ad-ville, plot-wise? The gist:
-Bets is probably crazy
-SCDP gets tricky to thwart a rival agency
-Roger goes on a racial tirade
-Miss Blanketship: perfect comic relief
-Pete Campbell is still a twerp (but a slightly more justified, intelligent one)
Whatever the case, the show is at least stepping it up with smarter, more creative (!) storylines about the "golden" era of Madison Avenue advertising.