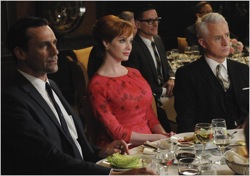 As Matthew Weiner and co. hauled home more Emmys on Sunday night (Mad Men scored its 3rd straight win for Best Drama), AMC forged ahead with another new episode of their mega-hit show in which, ironically, Don won his own award (a pretty ballsy move on Weiner's part to air this episode on Emmy night, but that's just how he rolls!). This week was all about past and present ambitions and power grabs at SCDP and the episode continued the trend of the company's creatively-minded folk cutting through the clutter of formalities and inner-office practices. And yes: Peggy got naked.
The viewer got both sides of the creative coin — the glitz and glamor of Don's win at the Clio awards (what was up with all that hand holding? Joan is one lucky red head…), juxtaposed with the ugly, behind the scenes slog of Peggy and her new bozo of a creative director working through the weekend to finish a new pitch — something all ad folk can relate to. We also saw how Don first cleverly finagled his way into the ad biz — albeit bright-eyed and bushy-tailed (even if his suits didn't fit as well, dude looked like he still had a soul back then!).
Such blasé creative behavior — Don, tanked, coming up with tag lines for Life cereal while meeting with the client, inadvertently swiping the copy kid's "common cold" idiom, Peggy stripping for the sake of cough drops and cold syrup (one liner of the ep: "let's get liberated") — continues a flattening of the old ad structure — a cutting of creative across the institutional, preordained hierarchy.
Ad-wise, the situation is dire. The pre-spot trivia, mostly recycled at this point, included one interesting addition: a quote by one David Ogilvy. Does everyone who watches actually know who Mr. Ogilvy is (or worse, care to)? Other bumps included Chase (established context with show — they were around in the 1960's), Breyers (re-run of the terrible parody spot), Clorox (new fact, same old sexist commercial), Bridgestone, and BMW.
But why didn't they run a placement for Life cereal? They could have constructed a fresh-but-retro-looking campaign along the lines of the episode's "Eat Life by the Bowlful" angle. They could have certainly had some fun with that, and got the long-running breakfast brand to pay for some far more integrated (not to mention subtle and highly relevant) branding here. Building off this idea, how cool would it be if AMC started working in classic advertisements into the show's commercial breaks? It'd be a lot more entertaining than just those facts. Say, a classic spot like this:
Other post-ad musings:
-The whole Life pitch seemed pretty radical to us. Was it really done this way (minus the booze, of course)? More importantly, was it really that easy to get a client to sign off on new work?!
-Don Draper: a boozin', award winnin', high-flyin' hot mess. Everything is fine now, but things are going to hit the fan soon enough, man.
-How to knock a pitch out of the park: get drunk, inadvertently plagiarize
-If you're a copy troll, hard work doesn't pay off (See Peggy's work on Glo Coat, gone unrecognized)
So, what's your take on the season so far? Advertising or otherwise — let's hear it! Then, head over to The Awl and Gawker for superb insight from the internet's best.
Image via NYT