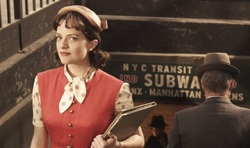 Okay, great Mad Men episode, or greatest Mad Men episode? In either case, "The Suitecase," was all about the advertising. More specifically, it was about idea generation, and all the blood, sweat, tears, and in this case, vomit, that this torturous process involves. So who wants to spend their 27th birthday with their boss, cranking away at concepts about luggage? Oh! Me! Me!

Yes, Don and Peg (doesn't that sound nice?) spent the evening slaving away (read: hitting the sauce, hard) on concepts for an upcoming Samsonite pitch, and, in the process, strengthened their relationship as a creative duo (no, that doesn't mean they hit the sack, but we are starting to get the feeling an epic mistake like that isn't outside the realm of possibility). It started out scary with Don's tirade about Peggy's loyalty, experience, and general ungratefulness, but ended up being pretty darn adorable, platonically-speaking. However, the resulting ad concept was not so cute.
Are SCDP resting on their laurels after their Clio win last week? Even in the moments after the win, Don delivered some sloppy, spur of the moment copy for Life cereal. Now, this week, they struggled all night with Samsonite, only to settle with a design lifted straight from the morning paper. Does it not feel like everything they've come up with as of late has been, well…lame and hackneyed?
Are you of the opinion that Draper's creative output has gone downhill this season? (Minus their precious Glo Coat, of course.) Do you blame writers at AMC for the show's lackluster propaganda lately? Bless us with your analysis below, then head to This Recording for a brilliant write-up on the week's events.
Finally, we leave you with your new favorite website, Sad Don Draper (props go to tipster Lauren Bans):