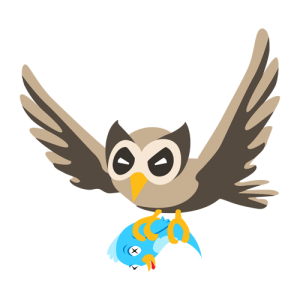 With each successive ad-related announcement, micro-blogging service Twitter seems to move further away from a marketing strategy that's equal to its cutting edge services and savvy, new school users. Its newest venture with client HootSuite is just the latest interruption-as-usual.
The latest announcement is hardly encouraging for marketers seeking a more involved and less intrusive way to reach their targets: starting this month, the company decided it would begin slipping ads between the tweets of users dialed in via third party software HootSuite (the two will share the spoils, Ad Age reports). Dick Costello, Twitter's CEO explained the choice of HootSuite over of the company's own Twitter.com saying that the service is more of a mobile one (though this decision could ultimately prove more political than anything else).
Only earlier this year did the service announce its first formal foray into the ad biz: Promoted Tweets, which offer the ability to give prominence and top billing to branded messages, and, shortly thereafter, Promoted Trends, wherein brands could bump up and latch onto trending terms.
The idea of blanket interruptive messaging through Twitter — "Tweet-vertising," as it were — isn't exactly new. Third party twitter advertising companies and participating twitter celebrities (Kim Kardashian, Heidi Montag, etc) have teamed up in the past to profit off of followers, putting them at the mercy of brand names willing to shell out the cash to broadcast under their likeness.
What all of these efforts lack is true integration. The HootSuite deal feels like yet another disheartening cave-in designed for quick cash and investor comfort. Can't Twitter find other more innovative, subtle, and palatable ways to leverage its veritable goldmine of content to sponsors?
While there are promoted tweets and trends to be had, these still allow a brand but a brief, temporary, and forced entrance in a user's tweet stream. There's nothing elegant about inserting paid messages between active conversion, and Twitter users know this better than anyone. They've sworn off the ad-supported model of old for real time, uninterrupted, streamlined entertainment. They won't accept more of the same "messages from our sponsors."
What they will bite on is something more seamless, more relevant, and genuinely useful. Twitter has work yet to be done if they hope to connect brands with fans in more meaningful and longer-lasting ways. We say focus on providing a consistent array of winning original content. That is, the stuff that's worth tweeting about in the first place.