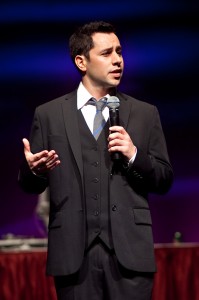 On November 7th, 2010, attendees from around the United States descended upon San Diego to recognize the top philanthropic achievements by charities, businesses, and individuals at the Classy Awards.
I've always believed that the people and brands who tell the best stories win, but it's a special experience to actually see this idea in action, changing the world. The speakers in attendance were masters of narrative persuasion, inspiring me to grow a mustache and fight poverty in Africa, at the same time.
The ceremony, hosted by Stay Classy (appropriate for San Diego, no?), featured a nominee from eight cities in ten categories including Volunteer of the Year, Philanthropic Business of the Year, Most Innovative Use of Social Media, and Charity of the Year.
Non-Profits, charities, and volunteers are fueled by the power of their stories. These stories motivate them and others to make a difference in this world. Some of the best stories from the night included (but were certainly not limited to):
Adam Garone, Founder and CEO of Movember, told his story of how a few beers and a desire to bring the mustache back has resulted in over $42 Million for Prostate Cancer research.
Laren Poole, Founder of Invisible Children, shared his story of how a filmaking adventure to Africa in 2003 transformed into a movement seeking to end the conflict in Northern Uganda and bring child soldiers back to their homes.
Christine Lott, Founder/President of Christine Cares, Inc. and a former finance maven in Boston, shared her story of how she has dedicated her life to build schools and churches to improve the lives of the Tanzanian children.
The moment I will always remember was when Stay Classy CEO and Co-Founder (pictured above) Scot Chisholm took the stage. Scott talked about how his mother's battle with cancer and the life lessons she taught him inspired him to leave his job as an engineer and make a change in the world.
Scott told a great brand narrative. He sets up the story (mother's battle with cancer), presents the dramatic action (deciding to make a change), and resolves the story (founding Stay Classy). He engaged the audience, making them laugh, cheer, and cry, all in under five minutes. He brought the audience into his world, breaking down the walls and showing real emotion.
His goal was to explain who Stay Classy is as a company. He didn't talk about their site traffic, beta testing, or monies raised. He didn't use any business jargon. He didn't even drop the names of major charitable organizations that Stay Classy helps support. Scott told the real story – the story that truly encompasses what his company and brand are all about.
Great stories inspire. Great stories create change. Great stories entertain. Great stories endure. Great stories spread. That's Post-Advertising.
Story Worldwide is both honored and humbled to be a sponsor of the 2010 Classy Awards. In early 2011 we'll be working with the National Charity of the Year Award Winners, Nourishing NYC, to help them unearth their own story to extend their reach and change the lives of others.