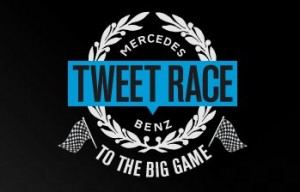 In a new social media campaign supporting its first ever Super Bowl ad, Mercedes-Benz has announced "the world's first Twitter-fueled race," in which four teams will race suped-up autos from New York, LA, Chicago, or Tampa to the 2011 Super Bowl in Dallas. The grand prize is a 2012 C-Class Coupe and tickets to the Super Bowl. Here's the catch: it will take more than just speed to win. Racers will have to complete to-be-announced challenges along the way and garner Facebook likes and tweets (according to Mercedes-Benz, the winners will need "gallons of Tweets"). Sure, Facebook and Twitter are great marketing tools, but does this make any sense?
Applicants with a "Twitter following with serious horsepower" were encouraged to apply, and the finalists will be announced on January 5. Then, on January 12, the public will get to meet the official drivers on the Mercedes-Benz Facebook page and pick the team they want to root and Tweet for before the race begins on Feburary 2. Twenty "Most Valuable Tweeters" will also win prizes — not Coupes, but tickets to an upcoming event like the 2011 US Open or the Mercedes Benz-Fashion Week are up for grabs.
One look at Mercedes Facebook or Twitter pages, and it's clear that this marketing ploy has created lots of buzz among German car afficionados who want in on the chance to compete for the shiny new car and score tickets to the Super Bowl. On its face, the campaign seems like a good approach. Engaged audience? Check. Earned media? Almost, but not quite. It's something more like Bribed media. Here at Post Advertising we define Earned media as "positive brand messaging that's produced and spread by unpaid influencers." We're not sure this qualifies.
Mercedes' tactic encourages tweeters to promote Mercedes-Benz through their online networks and become "MVPs," but those Tweeters won't necessarily be spreading the brand message because they actually find the content worth sharing. They're not being paid, but there is a pot of gold at the end of the Twitter race. True-to-form earned media carries credibility because consumers are spreading and sharing a brand message that they actually want their digital communities to hear about it. It's organic, not forced, and it doesn't just reward those who Tweet the loudest.
So, we ask you, gentle reader, what could Mercedes do to actually harness earned media? What could they do to improve their authority to publish and make people retweet them for their valuable content as opposed to forcing them?