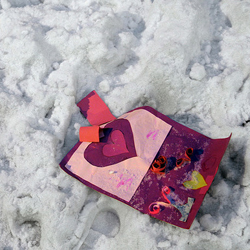 Valentine's Day is one of the 20th century's oh-so-special holidays. Husbands and boyfriends rush to their computers to put the least amount of time (and money) into purchasing flowers while the single crowd turns to their social networks to gripe about a holiday they claim was created by greeting card corporations (it's wasn't) and, of course, the devil (plausible).
However, this year Valentine's Day conveniences didn't stop at floral and chocolate ecommerce sites. Oh no. FTD.com partnered with the über-sensitive folks at Groupon to offer a super-sweet deal: $40 worth of flowers for $20. Other than a promise ring, what could be better? Apparently, a lot.
Local mom-and-pop floral shops rejoiced as they heard the collective sobs of sour suckers who took advantage of the Groupon offer. For starters, paying $20 for $40 worth of flowers was apparently a bad deal when compared to standard offers available on FTD.com. There was also some speculation that FTD.com had inflated prices to recoup their losses, but we'll give them the benefit of the doubt on that one. Things got so bad, in fact, FTD.com decided to end the Groupon deal early.
If only it stopped there. Then maybe male FTD.com shoppers could have preserved some of their dignity. Unfortunately, it didn't.
Already out a few bucks, Groupon shoppers waited patiently for the jubilant calls from their significant others thanking them for their annual bouquets. Only, for many Groupon customers, those call never came. That's because their flowers never showed up, and many of those that did were wilted and near death.
Is it St. Patrick's Day yet?
Of course, FTD.com wasn't the only online florist that under-delivered on Valentine's Day according to a Consumerist.com post aptly titled, "The Consumerist's 2011 Valentine's Day Garden of Discontent." However, it was the only online florist to leverage Groupon's daily deal nationwide in order to bolster sales and ride the wave of other successful Groupon campaigns. With such reward comes the risk that they face-plant on their surfboard. And that's exactly what happened.
Regardless of how hip, trendy, and forward-thinking commerce-based online technologies seem, businesses never will have the opportunity to slack on customer service and quality. It's the essence of "Great Content Wins." If your content is not great, you will not win — at least not in the long run. FTD.com's Groupon experience only magnified the risks of online floral purchases and the difficulty of satisfactory customer service.
Is it worth a little extra to receive face-to-face customer service, accountability, and quality from your local florist? Could web 2.0 actually work in favor of local businesses, which need foot traffic and phone orders to survive? The comments are yours…
Image courtesy of WhatDaveSees on Flickr