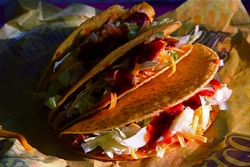 Few are naive enough to think that Taco Bell is authentic Mexican cuisine. But diners were recently surprised to discover that the restaurant chain's "seasoned beef" actually consists of only 35% beef, technically classifying it as something known as "taco meat filling." Not sure what that means? No one is. In response to the massive social media outcry stirred up by the class-action lawsuit that brought the disqualified beef to light, Taco Bell started to "think outside the bun" itself, actually giving away the secret recipe. Bon appétit!
"We start with 100 percent USDA-inspected beef. Then we simmer it in our proprietary blend of seasonings and spices," wrote Greg Creed, president and chief concept officer at Taco Bell Corp. But, as Stephen Colbert pointed out, these are more non-traditional "spices," such as isolated oat product.
While most of us know that strip mall cuisine is far from healthy, Taco Bell misled consumers into thinking its principal ingredient was something it wasn't.Thats gross and disappointing. But you have to hand it to them from a PR perspective —the faux-Mex chain didn't wait to respond.
Unlike other fast-food companies, some of which have senselessly delayed damage control in the wake of negative press, Taco Bell struck back immediately on Facebook, Twitter, and YouTube, as well as with a full-page ad in the Wall Street Journal, the New York Times, USA Today, and other papers, trying to gain the upper hand. Acting aggressively and confidently in such public spaces, Taco Bell has successfully parried much of the negative news.
While a brand can't get around a poor product, Taco Bell's take-charge attitude in addressing the issue is serving it well with its target consumer. Fans are interacting with them, liking or commenting on posts and videos. The public forum certainly hears from both sides, but at least the company is attempting transparency instead of backtracking and covering things up.
And ultimately, do the Taco Bell fourth-mealers — all those 19-year-olds at the 4 a.m. drive-throughs — care what's in the other 65%? Probably not.
(Via Advertising Age. Read more at Gizmodo or Mashable.)
PHOTO CREDIT: Steven Depolo /flickr.com