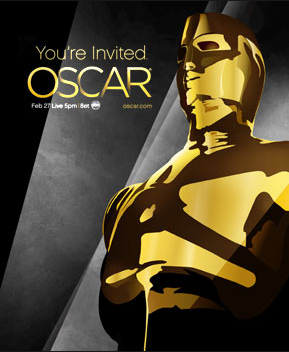 As expected, yesterday's Academy Awards were about movies, celebrities, and red carpet style. But more than ever in its 83-year run, the annual ceremony put social media center stage. Behind-the-scenes websites, apps, and real-time commentary were designed to make these Oscars the most interactive yet. The big idea: Double your screens, double your fun. Great in theory, but with the apps and tools we used, we found our fun severely diminished.
In an attempt to appeal to younger and more internet-savvy viewers, various websites were designed to offer bonus material ranging from behind-the-scenes shots to interactive ballots, live commentary, quizzes and trivia, not to mention ongoing tweets from the "Mominees."
On iPhones, iPads, and computer screens, viewers were put in the control seat. They could follow their favorite stars around and watch celebs schmoozing, eating, and partying via live stream from 360-degree cameras. The idea behind this two-screen experience was to attract more viewers and create deeper engagement with the content, offering unprecedented access to the red carpet, the Kodak Theater, and the exclusive Governors Ball.
However, much of the ultra-exclusive bonus content came at a price — $0.99 for the Oscar Backstage Pass and $4.99 for All-Access. Charging for the two-screen experience felt counterintuitive to the goal of interactivity, because adding a price tag automatically limits the number of viewers that will access and engage with the material. The Oscars did provide some material for free on Oscars.com.
A recent survey by Deloitte revealed that "nearly three-quarters of American consumers are multitasking while watching TV" and of those people, "42 percent are online." So it's clear that television is far more powerful when it's supplemented by the internet, but the research doesn't necessarily show that people are willing to shell out extra for it. I know I'm not.
In fact, like much of the younger demographic the Academy is targeting with hip hosts like Hathaway and Franco, television is not a part of my daily life. I mostly rely on Netflix and other streaming websites. But in wanting to watch the Oscars live from the comfort of home, my roommate and I found an unusual solution: her family set up their computer's camera to focus on their big screen and broadcasted the event through Skype from their Oregon living room to our Brooklyn apartment through my roommates' laptop. Ridiculous? It was. In addition to sharing commentary with the west coast parents, we enhanced our experience on my own computer by clicking between the free Oscars.com coverage, casting our online ballots, and playing random trivia games — did you know Nicole Kidman never earned a high school diploma and that the Oscar statue is plated in 24-carat gold and weighs 8.5 pounds? News to us, too.
But the idea of a two-screen experience combining TV and Internet (or in our case a four-screen event if you count that TV across the country and their home computer used to stream it to us plus our two laptops) is still a new beast that networks need to perfect to capture viewer's attention before they start charging. The talking hosts on the free Oscars.com experience were a distraction when trying to listen to the acceptance speeches, and for long periods the "Thank You Cam" (also free) seemed to exclusively feature backstage participants looking confused, bored, or adjusting their getups. They appeared unaware they were being watched by audiences at home. Perhaps that was the intention, but the experience fell flat.
What's more, the show was, by most accounts, the most lackluster in years. More camera angles of the same train wreck doesn't make for exciting content. Enhancing and amplifying the viewer's experience in the digital realm is a must for all network television stations, but first and foremost, let's make sure the content is of a quality that's worthy of digital echoes.
Perhaps the cameras that were accessible only through the paid Backstage or All-Access passes offered more valuable, better-timed, and less distracting material, but I doubt it. Is it too soon to pay for this under-curated content? Did you find value in the bonus material? Tell us about your Oscar experiences in the comments.
Image courtesy of oscar.go.com