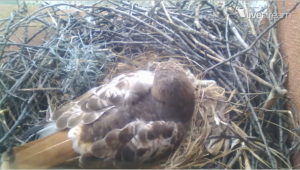 This morning, my coworkers were excitedly watching the NY Times Hawk cam, which features a pair of red-tailed hawks that have made a nest for themselves at NYU.
Pretty cool, right? But after a few minutes of watching the hawk's slight head turns and subtle feather ruffling, I remembered the "Petite Lap Giraffe cam" that I'd just stumbled upon over at Brand Channel. I decided to send the link around. Subject line: "This animal is WAY better than the hawk."
Soon I heard ooohing and ahhhing from nearby desks. "Oh my gosh; it's so small!" "Is it real?!"
I'm fairly certain some of my colleagues still believe these tiny creatures exist — sorry guys, they don't! — but they're not the only ones who are confused. Unfortunately, the lap giraffe is just an adorable and ingenious marketing ploy from DirecTV. In the ad below, the well-to-do "giraffe owner" admits that he likes saving money — and therefore jumped on DirecTV's offer of 5 months of free premium television.
The take-away: cute animals, real or imagined, can add lots of sharing power to a video. I can't help but click the "I want giraffe" button. Me and 700,000 others.
Photo credits: The New York Times, Sokoblovsky Farms