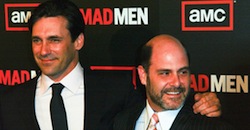 Oh gentle, ad-obsessed readers, it seems like only yesterday Mad Men was on the air and we at Post Advertising were serving up weekly slabs of inspired ad industry analysis to go with it. Where do the days go? It's been nearly 6 months! The show isn't back, but there is a bit of news: following belabored negotiations with AMC, it was announced that Don Draper & Co. won't be back in action until 2012. Who's responsible for the hold up and what made the protracted, closed-door contract talks so ironic? Read on!
We were told that the long gap between seasons was due to "key, non-cast negotiations," but it was at least in part connected to the potential axing of two regular cast members per season for the next three proposed seasons, in an effort to cut $1.5 million from the show's budget each year. The other big hold up? A stand-off resulting from AMC's demand for both more product placement and that two minutes be cut from each 47-minute episode to make room for…more ads.
Then there's the fact that AMC already has a monster of a programming schedule to roll out this year, a factor which may have led the show to be bumped out, negotiations or no negotiations.
Matthew Weiner, the show's creator and mastermind had supposedly held out on artistic grounds, despite being offered some $30 million over the next three years to stomach the changes to the format, content, and staff.
But on March 31st, Lionsgate (the studio behind Mad Men) and Weiner finally came to an agreement. After scuffles over how long the show would run each week, it was decided the premiere and finale of the remaining seasons would remain 47 minutes long, but all other episodes would be chopped down to 45 minutes — with a "final cut" including the missing two minutes to appear on iTunes and various On Demand networks eight days later. Cast members will not be cut. No word on an increase in product placement, however. (Last season, we described several ways the show could more seamlessly integrate branding.)
Perhaps the most interesting question, as noted by NPR's Linda Holmes, is the impact these extended "director's cut" episodes, which will debut a day after the following week's episode. How will they change the dynamic of the show's small-but-thriving online community of couch critics and enthusiasts, who dissect each episode for clues and meaning? Will the change in length and the decision to offer a definitive and longer version down the road compromise much of the show's cult following? Or will it separate the casual viewers from the super fans?
Is the whole idea of selling an extended cut of the show just a clever way of roping in show diehards to pay more for b-side content, scraps, and storyline incidentals as a way to capitalize on completists? While 45 minutes per episode is by no means short by cable TV standards, the broader, previously unexplored concept of a two-version product is positively post-ad — for better or worse.
Tell us: At the end of the day, are you happy to have Mad Men back (eventually)? Or, do you think AMC and company may potentially have endangered the show's well-balanced magic?