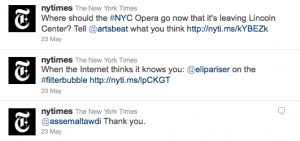 The New York Times boasts the highest number of Twitter followers among US newspapers (more than 2.5 million — which is more than five times the number for the WSJ), but the paper is constantly refining its social media strategy. Recently, the Gray Lady has been shaking things up by replacing the @nytimes auto feed of headlines and links with real, live humans. Yes, actual human beings. And to everyone's surprise, these humans are posing questions, retweeting content, and curating more active online conversations. You know, social media stuff.
Twitter's been around since 2006, but the NYT and many traditional news sources have yet to fully realize its potential. Social media at The Times has varied over the years: the paper hired its first social media editor in May of 2009, only to eliminate the position in December 2010. Until now, the NYT has mostly limited engagement with it's stories to pre-publication, and have used @nytimes to point their followers to specific articles as they appear on NYTimes.com, but otherwise hasn't interacted with it's audiences post-publication to curate conversations.
Simple as it may be, we agree that the diagram below (developed by Meg Pickard, head of digital engagement at The Guardian), provides a good visual representation of the traditional process of reporter and user engagement in journalism — as well as its obvious gaps.
"The horizontal line is the process of journalism. The vertical line represents publication. Above the line are the actions of journalists. Those folks traditionally work really hard up until publication, then return to the beginning to start something new. Below the line are the users, whose role has always come after publication, reacting and sharing."
But with tools like social media, there's the opportunity for a more well-rounded dialog between content creators and content consumers. And it's not just the NYTimes that's still struggling to figure this stuff out — if you look at most news organization's Twitter accounts, you'll largely find autofeeds, not two-way dialog. At The Times, social media is limited to the rather generic guidelines of "don't be stupid." (We should note that we have a few other ideas about audience management here.)
But it seems the strategy of The Times is evolving. "If you just think about it only as distribution, you're not getting what you can out of social media," says Social Media Editor Liz Heron. It's true — Twitter can be helpful to distribute breaking headlines to readers — but there are also opportunities to create, maintain and support a community in realtime conversations — it just takes some practice, and dedicated (wo)man-hours.
Should news organizations move towards a more engaged approach to social media? Do you follow news organizations and hope to have real conversations, or are you content with cyborg-generated Tweets to follow breaking news?
(via Poynter)