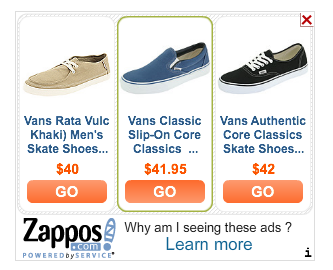 Reason #348 why Zappos is awesome: honesty in advertising! Lately, I've seen more members of my social circle raise their eyebrows over hyper-targeted web ads — the kind that give real-estate to a product or product category you may have just been looking at, or a website where you bought something. There's the creepy and unexplained stuff that feels like it's stalking you, and then there's Zappos.
My story begins last week when, after browsing Overstock.com for chests, trunks, and various coffee tables, I started receiving targeted Overstock.com banner ads featuring a groovy espresso-colored pyramid trunk I was on the fence about (see below). No doubt, they figured if I took but one more peek at it, I'd spring for it instead of moving on. Much the opposite! Instead, after an satisfying online shopping experience, I found this follow-up weird and off-putting—mostly due to the media's unexplained, overt nature.
(Don't judge my taste in furniture!)
Mere moments later: Urban Outfitters, who, after my visit to their online store looking for… cut-off jean shorts — again, please hold back judgements for now — offered up a banner ad specializing in—you guessed it—shorts! Or, er, "bottoms!" The minimalist advert gave no explanation as to why I might be seeing something so spookily relevant to my tastes. Coincidence, or another barrage of wink-wink, nudge-nudging?
(fig. 2, Urban Outfitters)
After some casual shoe shopping, Zappos also approached me, albeit with one crucial difference: transparency. "Some People Prefer Rainbows, And Others Prefer Unicorns," read the headline of a page-long explanation of personalized, hyper-targeted advertising (easily found by way of a "Why am I seeing these ads?" button in each ad). Only one of the Overstock.com banner ads carried an info button, presumably for more details, but it was nondescript and could easily be missed. Zappos explains, in plain English, why they love personalized ads. Their words: "They display products that are relevant to you versus a typical ad that showcases a limited product offering."
They also clearly introduce and explain the company working with them to create these ads (Criteo), and how no form of personal information has been shared (your previous shopping behavior, as they explain, is anonymous), your current status (if you have an "active cookie," etc), and more. Perhaps most importantly, they give users the ability to opt-out of such ads with a single click.

"If you prefer not to see personalized ads, we totally get it. OPT OUT HERE."
What else? Zappos provides a spot on the aforementioned page to let those subjected to the ads share their feedback, helping to foster a culture of honesty and communication on both ends. I've touched on Zappos' refreshing approach to business before, in stark contrast to malicious brand hijinks elsewhere.
Sure, this may just be an extension of Facebook's already-rampant use of personalized, contextual advertising (see: Sponsored Stories) — but unlike Facebook, where a certain lack of privacy is generally understood and accepted these days, utilizing basic web behavior for a commercial context is relatively uncharted waters for the general populace. At this point, such media will very likely freak out the average shopper if not accompanied by something of an explanation.
To have near real time web browsing information casually used to entice seems a bit invasive, without being framed and put into context in the way Zappos has done. In actuality, once you get over the Minority Report-level creepiness, personalized advertising does deliver infinitely more relevant banner placements — placements that act more like paid search placements and less like interruptive and out-of-context spam messaging.
I'd just like to see it be less about a single company using such information to draw back near-buyers and recent customers and more about brands and industries as a whole matching up better with our interests and more seamlessly and creatively catering to our needs—and always allowing us to opt-out when things get too real. Bravo to the earnest heads at Zappos for their transparency!