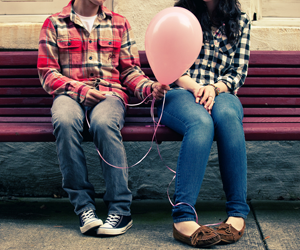 Online dating has become part of our everyday consciousness. Sites like Match, eHarmony, and OkCupid have become industry moguls and multi-million dollar businesses. Even stomach-turning sites that allow for infidelity boast millions of users.
I joined OkCupid years ago to find out what the scene was all about. While I didn't meet Prince Charming, I did discover something that brought my mind right back to the confines of this cubicle: Like real-life businesses, online dating is all about branding — putting your best foot forward to attract and engage (no pun intended) an audience.
So if you're looking for love and some marketing knowledge along the way, keep these lessons in mind.
Set realistic expectations
And know how your audience sees you. If you're a balding, 65-year-old man, you shouldn't set your sights on the hottest chick. If you have nothing in common (or nothing to offer), you're nothing more than that creepy dude making a desperate attempt to score. You need time and the means to invest in your pursuits; without making much of an effort, you probably won't have satisfactory results. Before you do anything, take a look in the mirror and understand who you are.
Know your story and tell it well
The inherent limitations that online dating creates means that your profile is going to have to tell your story for you. It's also the only way to take your virtual mate beyond just your looks. Who are you? What are you all about? Why should I care about you? Your story is essential. It's no different in the digital marketing arena. The first contact a potential customer has with your brand is rarely, if ever, a person. Thus, if you haven't defined your story and aren't telling it well (or at all) across digital platforms, you better hope your logo and website has six-pack abs and baby blue eyes because you're probably not going to get that first personal contact. Every brand has a story, but those who tell it best, win.
Know your audience — and pay attention
Meaning: Don't just look at the picture. Your audience is a diverse group of individuals with different opinions and different needs, and they should each be targeted as personally as possible. We know a form letter when we see one, and it increases your odds when you make us feel special, when we believe you're invested in our interests. That's why methods like localization are often more effective than mass marketing.
Brevity is a virtue
I love reading, but you're no Hemingway (although he was a fan of brevity, too). Just make the important points up front. If I have to scroll through an epic profile to get to the punch line, I probably will give up halfway through. The same thing applies to branded content. Ever heard the phrase "less is more"? There's a reason it's a cliché. You need to get the important stuff out first and then let the audience decide whether or not it's interested in what you can offer. Information overload doesn't help things: Lead with the relevant news so you don't lose your audience.
Then again, leave an element of mystery…
First name, job, where you live — yes, certain details are vital. But you can't market yourself to me as a living CV. Leave room for questions, generate talking points, and create opportunities for engagement. That establishes a more robust, two-sided conversation. That way, our conversation develops organically, and we can keep it going longer. As a brand, don't try to move your audience to purchase in the first contact. Give your audience just a bit, a new chapter, at each contact you make — effectively nudging them along their journey.
Know your points of engagement
I'm only going to exchange so many emails with you before you lose my interest. Potential customers can only carry on a conversation for so long before you need to ask them out and create actual consumers — and, hopefully, brand advocates. Your window of opportunity to hook your consumer won't last forever — so know when to go in for the hard sell.
Have confidence
Keeping the previous lessons in mind, know what you want…and go get it! In the dating game, insecurities keep relationships from blooming. Brand-consumer relationships suffer from the same thing. There's a difference between arrogance and self-respect — or pride. The former turns people off while the latter is alluring. If you're confident in your brand, you'll foster consumer confidence. So don't be afraid to speak up, to take a risk, to ruffle some feathers, to be that brand you envision.
Know when to give up
This isn't working out. And it's not me; it's you. A tired pitch that's proved ineffective time and time again needs to die. Nothing looks more pathetic than a brand clinging onto a sad campaign when the response has been overwhelmingly negative. If it ain't workin', change your game.
Are you a marketer who has braved the seas of online dating and have seen other similarities? Let me know in the comments.
(image)