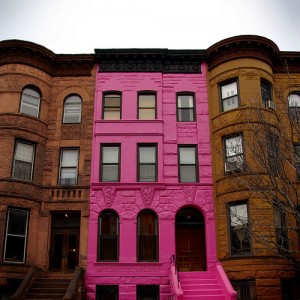 As geographically stable as most cities are, their identities shift over time. Pittsburgh was the symbol of American muscle in the '50s and '60s; today it's a poster child for urban decay. New Orleans evolved naturally from frontier military port to bead-strewn decadence hotspot…then a disaster took it straight to Desperation City, literally overnight. How people feel about a city can mean all the difference between the heaven of tourism millions and rising property values and the hell of the butt of national jokes (see Pittsburgh, Cleveland, etc.) Identity is big business, and that means branding.
Take Perm, Russia. About 900 miles from Moscow, Perm was a sort of identity-free zone during the Cold War…a "closed city" kept secret due to its military production facilities. As detailed in this New York Times article, the public perception was a grim "Gateway to Siberia." Try that on a t-shirt! Being the butt of national jokes has a real costs in terms of civic growth; Perm lost over 160,000 young people between 1997 and 2004.
Today, post-war Perm is working to stop the mass exodus and turn the city into an attractive place to live. The face-lift: Rebuild Perm into a national destination for modern art (Lenin be damned), art, and art lovers. To this end Perm has dedicated almost $53 million USD (a full three percent of its budget) to cultural development, opening museums, galleries, and performance spaces and accenting the city with street art and statues. Oleg Chirkunov, governor of Perm, has even appointed an avant-garde theatre director as the Minister of Culture to bring a fresh, vibrant perspective.
Will it work? Time will tell. Changing a city's image is no walk in the park. Cities are history, and geography and topography, and neighborhoods and populations that change at the slow pace of generations. An all-out effort to reshape a city's public perception is an important first step toward turning around its fortunes. But it's important to remember that the brand of a city, like all brands today, is ultimately in the control of its consumers — in this case, citizens inside and outside its walls.
In 2001 the phrase "place-branding" was coined to represent this growing phenomenon. Atlanta, Toronto, Glasgow, Liverpool, Melbourne, and even my hometown Durham, North Carolina all leap to mind when I think about cities rebranding themselves. Locales are constantly generating new slogans: In 200the p5 Mayor Bloomberg tried to sell New Yorkers on "The World's Second Home," but R&R Partners' brilliant "What happens in Vegas, stays in Vegas" campaign was more successful, bringing a record 37 million visitors to Vegas in 2004. I could go on.
Branding a city may have higher stakes in terms of people's lives and livelihoods, but the marketing challenge is not materially different from branding and marketing other products. You start with a clear business objective (to attract more youth, to bring in tourists, to raise property values) and a communications objective (we are friendly to business, we are green and eco-friendly, you will want to raise your kids here). Once these are established, you can start looking at your target audience's habits and prejudices and begin to develop content that supports your objectives, is supported by the evidence and credible to your audience, and is packaged to be shareable, spreading productive conversation.
Here's how it works in the real world.
In 2010, we helped New Detroit, the city's largest community organization, create an agenda to involve the people of Detroit in taking their first steps toward reimagining the city. Detroit was as troubled a brand as cities get: The national media was literally calling Detroit a city that couldn't be saved. So the minds behind the New Detroit Project decided to fight back and regain control of their city's story, with the help of Story Worldwide. Understanding that communities are defined by multiple voices, we proposed and helped New Detroit organize what became known as "Taking Charge of Our Story." More than 250 of Detroit's journalists, business professionals, and politicians met face to face for a one-day, promoted and live-blogged public summit. They discussed where Detroit has been, where it was then, and where it intended to go. We created a visual design that drew on Detroit's rich history (think Motown, the Golden Age of Autos, etc.) to help form a solid foundation for a better future for the city. The project led to the creation of a unique news start-up, Detroit143, that is now out raising capital and finding partners.
Rebranding cities, like rebranding products and services, is a continuous process — it can't be fixed with a short-term "campaign." In a digital age where conversation goes on forever, brands need to commit to long-term engagement with key audiences. For cities, this means committing to real improvements and proof points that support the new image they're trying to portray. They need to be honest and transparent throughout the process — whitewashing won't be believed and evil will be exposed.
In the end that's the most important thing for cities to remember: In the post-advertising age, consumers control brands. The public has had a lot of fun with the idea of coming up with "realistic" state mottos like "Montana: Now Completely Overrun By Packs of Hyperintelligent Wolves" and "West Virginia: Technology Ain't Welcome Here." They've even concocted tourism "campaigns" of their own:
Any rebranding campaign should properly start with the citizens themselves, because they're the ones who will tell your story every day…for better or for worse.
How about your city…could it use a little rebranding work? Let us know in the comments.
(Image)