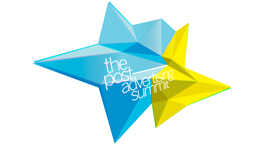 After three years of charting the emerging Post-Advertising world right here with you guys, we decided to throw our very own real world event: The Post-Advertising Summit! (March 29th, at New York's Cult Studios. Details here). In other words, we're throwing a party…and you're all invited!
Okay, it's not exactly a party. But it's not exactly a conference, either…This one-day event is meant to make branded content real for you. Luminaries from Ad Age, The Week, Electus, Bluefin, OMGPop and many more (see the speakers list) will converge to inspire you with bright revelations concerning the Future of Information and the Future of Entertainment.
It's not just about meeting new media stars, however. The Summit is a daylong series of collaborative events (see the schedule) that break down the walls between "speaker" and "attendee," between digital and actual audiences. It's about moving beyond theorizing about best practices—with your help, we're going to create real content in real time. And it's about making sure that branded executions will work in the real world, with all those crossed-arms consumers, while carrying out brand objectives.
It's going to be a lot of fun, and a damn good excuse to visit New York, if we do say so ourselves. If you can make it, we'd love to see you. There's a discount available for you Post-Advertising fans (ssh!) that'll save you $100 off the admission; use the code PABLOG when you sign up. If you sign up by Friday EOD you can also take advantage of the $100 off Early Bird Special (price goes up $100 next week). For more details, click here.
Hope to see you there!