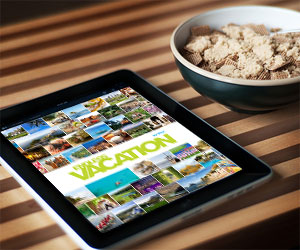 As the Oscars are seemingly falling apart with the departure of Brett Ratner and Eddie Murphy, subsequently, heading for ze hills, there's probably no sense in even watching it at all. So what's an award-show lover to do? Don't worry, we've got the Posties!
You'll see the Posties evolve into something really big and über important in the coming months, but for its first incarnation, we thought we'd take a look at a space that's near and dear to our hearts and award some of the best and brightest branded iPad applications.
Since we announced a panel and an interactive workshop addressing the Future of Branded Entertainment at our upcoming Post-Advertising Summit, we've been looking into our crystal ball (yes, it's real) and gazing at what's in store for brands as technology and the available channels seem to grow exponentially.
With a steady incline in the number of brands releasing mobile applications, it's evident that brands have realized the ability for the growing medium to deliver useful content in ways that wow. Sixty-six percent of the top brands have iPad apps, and almost as many (59 percent) have Android apps as well.
Of course, just having an app doesn't mean it's any good. It takes a lot of work and creativity to walk the thin line between promoting the brand story and providing content that's useful, entertaining or both.
So go ahead: Walk the red carpet, uncomfortably pose for the cameras and make your way to your seat for a sneak preview of the Postie Awards for Branded iPad Applications!
Jamie Oliver – Jamie's Recipes
To be a member of iTunes' iPad App Hall of Fame is one thing, but winning a Postie will surely be the feather in Jamie's cap. Also known as the "Naked Chef," Jamie offers downloaders countless recipes (both free and paid), vibrant imagery, videos, shopping lists and more, all backed by the Jamie Oliver brand. It may seem easy to create a cooking-related app when you're a chef, but he's come out on top in a sea of other foodie options for iPad owners.
Marvel Comics
The Marvel iPad application has been around for a while now, but its innovations still keep it among the leaders in the branded-application category. Our own Kirk Cheyfitz, Story Worldwide CEO, provided his insight on why this app is so innovative and therefore worthy of a Postie:
Museum of Modern Art – EX NY App
An art museum can be post-advertising? What?! That's right. MoMA caught our eye with an innovative iPad application designed specifically for its Abstract Expressionist New York exhibit. The application lets users enjoy the exhibit remotely, prepare for their visits or relive their experiences at the museum. One of the inherent problems with expressing art digitally, particularly for the passive user, is the inability to immerse oneself in it. What does it mean? Where did it come from? What's the story? This app provides a truly useful and educational experience with videos, essays, author biographies and educational content that demystifies the exhibits. A Webby Award winner, MoMA has successfully extended its reach beyond the walls of the museum and on to your iPad. Oh, and there's a video with a cat. #winning!
Livestrong – Calorie Counter
The Livestrong brand permeates through the cycling and philanthropic communities, and it's a titan in the food and fitness categories as well. It's put a near stranglehold on the calorie-counting category, and its iPad app demonstrates this. Standing as one of the top-five most downloaded (paid-for) iPad apps ever, Calorie Tracker isn't that gorgeous, but it's incredibly useful for people serious about holding themselves accountable for what they eat. The usefulness of this app compels users to equate the Livestrong brand not just to philanthropy, but also healthy living. Thus, they're more likely to turn to the Livestrong site (which is impressively straightforward) when looking for answers to their health- and fitness-related questions. (I know I do.)
RCI – Endless Vacation
What was once a custom-published magazine in print only, Endless Vacation (from RCI, a client of Story) moved beyond the boundaries of glossy paper and into the iPad. The application allows readers to delve deeper with interactive articles, photo galleries, alternate covers (just shake it!), panoramas and more. RCI, the largest timeshare vacation network in the world and publisher of Endless Vacation magazine, has embraced the future of advertising and focused on creating the great content that its readers want, helping the brand own the travel category.
Congrats to all our winners! Enjoy the after-party and please, don't text and drive. (Okay, this wasn't actually the Posties, but keep your eyes peeled for the real Post-Advertising Awards in 2012.)
Which branded iPad apps did we miss? Let us know in the comments.
(image)