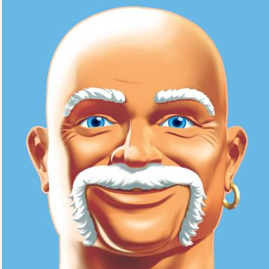 Movember. Manliest of all months, this philanthropic sensation has made its mark by having men around the world pledge, for one month, to grow the ultimate icebreaker and conversation starter: a sweet 'stache. Since its inception in 2003, $178 million in worldwide donations, for the purposes of men's health, can be attributed to this most glorious strip of hair. In less than ten years, how did it get to this?
How did one charity turn perhaps the definitive symbol of machismo into a highly effective charity badge? What part have brands played in the process, and what can those still watching from the sidelines learn from well-aligned brands? Cause marketing has entered the 21st century, and you better believe it's sporting a 'stache.
In case you're unaware (we all make mistakes), November is now the month of the moustache—meaning it's high time for donations towards and discussions about men's health (the stated focus being on prostate cancer). We previously covered Movember two years back, as it began gathering steam on North American shores. Participating males ("'Mo Bros") shave clean on November 1st and document their month-long journey with photo updates, all the while calling for donations.
Some—myself included—have surrendered their dignity along the way. It's not the size of the 'Mo 'stache, but the thought that counts, right? (I'm sure the donations even my sad 'stache has netted so far help, too.) One helpful bit of guidance found on Movember promotional materials helps keep weary 'Mo Bros going (and, emphasizes the importance of good editorial):
"Trying to grow a moustache can be an embarrassing thing, but so can talking about prostate cancer; we are all in this together, book your annual check up today!"
The primary experience lives on Movember.com, which offers testosterone-driven do-gooders the ability to create their own profile, quickly draft up donation messages and team up with their fellow facial hair-fueled philanthropists. Going beyond the dot com, this year's incarnation brings with it a more fully-featured iPhone app and focused regional Facebook communities for USA, Canada, UK, Denmark and Australia.
THE KEY TO MOVEMBER'S CONTINUED SUCCESS


How and why has this charity succeeded and stood out among countless others? The simple answer has much to do with their seriously smart strategy: by taking ownership of a definitive, highly visible bodily feature for a month—turning it iconic and instantly identifiable in a way not unlike the color pink and its association with the Susan G. Komen foundation and breast cancer. The fact that Movember constitutes a month-long story makes it all the more talk-able; the visual and creative aspects lend themselves perfectly to social media, where reminders live in profile photos and status updates. Instead of several, scattered pleas for donations, Movember efforts come off as a chorus of regularly occurring updates that, besides having purpose, are also fun.
According to Sparksheet, the continued, snowballing success can partly be attributed to the concentrated effort to form a cohesive brand and the establishment of a centralized organization dubbed the Movember Foundation. But how about brands and cause-based marketing?
Described as "grassroots" and "rebellious" by co-founder Adam Garone, the yearly event—a decidedly targeted effort for men, by men, to reach other men—absolutely lends itself to involvement from similarly aligned brands that can elegantly, ethically insert themselves and pitch in. The potential is huge; even as it stands, brands are another major reason for the program's overall success.
BRANDS GOING 'MO FOR THE MONTH
This past year, hipsters and hockey players alike have rallied behind the cause. Stand-up companies like The Art of Shaving and Toms have become close partners; name brands like Mr. Clean and sporting teams like the Florida Panthers are doing great work as well.
The brands listed below have all gotten great mileage out of their efforts, in part due to their relevance with the charity's demo, the quality of content, offers or products presented in honor of 'mo month.
One particularly 'mo-rrific brand collaboration this year has been with Break.com, the popular humor site geared towards—surprise—younger males. Thus far, they've kicked off a Movember photo contest on their Facebook Page, a slew of original content on their brand site, and even a sub-sponsorship by Honda and their—again, surprise, male-oriented—Ridgeline truck, which adorn Break.com's Mo of the Day within their Movember Central hub. Furthermore, Break's bloggers are maintaining a mo blog, daily tips are being uploaded, and real-time "mo chatter" is being displayed.
This is a primary example of a brand clearly with a lot to gain from this movement who've not just cheaply endorsed the efforts and reaped the benefits, but worked hand-in-hand to visibly advance the cause. Here's a great history of Movember produced by Made Man (part of Break sprawling digital media network), which serves as a great piece of original content and a storytelling tool.
In the same realm, comedy content heavyweights CollegeHumor must be commended for an extremely potent infographic on all things moustache, including a brief history on the charity itself and resonant points about men's health. Furthermore, general guy stuff depository uncrate has teamed with men's clothing brand Bonobos to offer a $500 Bonobos gift card to the uncrate Movember team member who raises the most, again upping the stakes and inspiring more donation work. A handful of $100 Bonobos gift cards are also being given away.
By all means a brand in and of themselves, the NHL has shown strong—albeit unofficial—support for Movember. Dozens of players have elected to grow for the cause, gaining the nonprofit considerable speculative buzz among curious sports fans. Missed opportunity: an official endorsement by the NHL, which would have made them the first major sports league to get on board. Still, even grassroots work by individual players has made for great publicity—a testament to the movement's ingenious use of a highly visible badge of sorts. In case you were curious, Yahoo's got a list of the top 10 greatest NHL mo's this November.
The Art of Shaving, a NYC-based retailer of high end shaving tools and skin care accessories—perhaps the perfect Movember sponsor—has also been an active partner. Not only are they offering discounted hot towel shaves until November 30th, but they began the month with a $10,000 donation and a pledge to match all donations made by those who join their team (up to $25,000). A well-monitored Facebook Page Wall encourages participants to show off their creations and offers helpful information on Movember USA to all who ask.
Having been a sponsor for years, shoe brand TOMS—which have been committed to charity for some time through their One for One initiative—have once again created limited edition Movember shoes. All proceeds from the sale of the two designs go to the Movember Foundation.
And let's not forget the iconic Mr. Clean, who has taken up the cause on Facebook, where he's been growing his own glorious 'mo all month long [https://www.facebook.com/mrclean?ref=ts]. The brand even drafted up great lightly-branded creative like this. Just like 'Mo Bros everywhere, the baldheaded king of clean has had his profile photo updated each week to showcase his progress. A playful Moustache O' Meter shows how far along he is. Fans have weighed in each step of the way—although descriptive updates have tapered off and Movember is not commonly referenced in posts and responses like on The Art of Shaving's Page.
Still the gesture by such a well known, long-running brand is worth noting. Elegant copy like this description on Mr. Clean's "'Mo Space" page helps emphasize and give appropriate weight:
"I've gone over 50 years without facial hair of any kind. Even the 70′s couldn't make me grow a moustache. But for an important cause like this, I'm gonna grow the greatest mo' ever illustrated."
Someecards represent a number of other web-based brands doing what they can do selflessly raise awareness. In Someecards' case, it means a small collection of funny Movember-themed e-cards. These entities may have far less to gain than, say, a directly related brand like The Art of Shaving, but they choose to back the effort anyhow.
Smaller brands, such as Wheelmen & Co., creators of vintage bicycle-inspired clothing and bags, have found small yet significant ways to support the cause. All of the proceeds from stickers featuring Wheelmen & Co.'s mustachioed logo in the month of November go to the American Cancer Society.
'MO BRANDS MISSING IN ACTION
A Mo Bro's average age: 31.
Beyond the current sponsors (official or otherwise), we at Post Advertising can think of a boatload of other brands who fit just as well and have just as much to gain from being associated with Movember:
-Axe Body Spray
-Old Spice (especially the Old Spice Guy)
-Gillette (although they do own The Art of Shaving)
-Braun
-Maxim Magazine
-Various whisky/scotch brands
-Dos Equis
-Brawny
-ESPN
-Just for Men
-Vice Magazine
-TV shows (ex: How I Met Your Mother's Barney Stinson grows a 'mo as part of a storyline)
One 'Mo Bro took it upon himself to create his own Old Spice Movember commercial. Probably a good sign that Old Spice should line up a sponsorship for next year, no?
The great part about yearly charities like Movember? Their set-in-stone dates make it easy for brands to plan sponsorships and promotions far in advance. Meaning no excuses for not playing ball!
Let it be seen as in example not only in regards to Movember, but charities elsewhere, that brand-appropriate cause marketing can not only establish a company as progressive and leading-edge, but if ignored, can make your brand look negligent or worse yet, selfish and uncaring.
PA READERS! Who else do you think belongs in our running list of should-be 'Mo Brands? How does this get your mind racing in regards to other brand categories and their corresponding target demos and related charities?