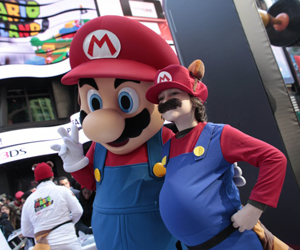 Last week, Times Square, the heart of New York City, was turned into the three-dimensional world of none other than the block-breaking, coin-jacking, princess-saving Super Mario himself. The iconic video game was brought to life allowing fans to play within Mario's 3D world, jumping on trampolines and sporting moustaches to celebrate the release of Super Mario 3D Land for the Nintendo 3Ds. It seems quite unique, but is it post-advertising?
For me, a child of the 80s, there's something special about a live event hosted by a brand that defined my youth. But in an age where more and more audiences are being reached digitally (versus with traditional methods), can live events produce enough ROI to make them worth it? Can such a traditional method of creating awareness be post-advertising? Are these events worth the time, money and effort they demand in a world where you can't simply buy (read: interrupt) your way into people's consciousness?
The answer to these questions can be yes if live events are made to be more than just a fun day out. Here are a few questions that must be asked when planning a live branded event:
Will it be entertaining?
By definition, post-advertising content is useful or entertaining or both. So useful and/or entertaining that audiences are compelled to share it with their networks, creating a snowball effect in marketing momentum. Any branded event must be entertaining just to draw an audience; we all know that. If it's self-serving and won't entertain, cease all efforts immediately and go back to the drawing board.
Will it generate buzz?
Entertaining is one thing. Being unique and so entertaining that it generates buzz is another. Many articles were written about the Super Mario 3D event, and user-generated content (UGC) can be found all over the web. That UGC can eventually be more important than traditional PR. Sure, being picked up by Yahoo! will help exposure, but it's the UGC that is embedded in people's Facebook news feeds, Twitter streams, blogs, emails and multimedia text messages that can reach targeted audiences.
The Super Mario event generated a few cool clips, and presumably hundreds (if not thousands) of pictures floated through social feeds that day.
Will it capture the brand's essence?
Setting up a huge rock-climbing event in the middle of Central Park sounds pretty fun, but it doesn't make sense if it's sponsored by M&Ms. At the 2011 South by Southwest Interactive Festival, geo-social app Foursquare set up a playground and hosted actual foursquare games, with CEO Dennis Crowley often getting into the mix. The line wrapped around the playground, and it's one of the few brands that had an effect on me. Foursquare also made noise, literally, when they gave away free tickets for a private Big Boi concert to a selected few who checked into SXSW using their app. The concert itself didn't necessarily align, but the way people achieved entry absolutely did.
Will it create marketing momentum?
Arguably the most important aspect of a post-advertising branded live event, considering the resources necessary to host one, is whether it can provide marketing momentum and return on investment.
For a marketing effort to be considered post-advertising, it must be only one part of a customer's journey. As you create this great content, you keep the marketing moving along. That's what can turn a passer-by into a brand evangelist: Providing an experience that furthers the audience's journey in your brand's story. How can your audience keep moving? Is there a place for them to upload their UGC (YouTube, Facebook)? What can they do after the event to ensure that the experience doesn't start and end the same day?
Many live events fall on either of the two ends of the spectrum. Some are entertaining content that doesn't move the audience to the next chapter of the story, so they aren't post-advertising. Some are just self-serving advertising and don't entertain or provide value, so they aren't post-advertising either. It can be hard to find the center, where entertainment meets advertising, but it's imperative for the brand to find it.
When planning these live events and experiences, make sure you're connecting the dots for your audience. Give them an experience they'll share with their friends. Motivate them to create a relationship with your brand. Make it easy for them to move along on their customer journey. Otherwise you'll find that the value of these events is limited to a moment in time.
Which branded events or experiences have you found to be effective post-advertising?
(image via Escapist Magazine)