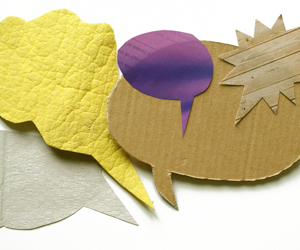 Since the advent of the Internet, blogs have provided the masses with a way to publish content. By the early 2000s, brands were catching on to the benefits of blogging, and those who embraced this new type of content marketing were seen as being ahead of the social-media curve.
Not only did blogs help businesses rank better for SEO, they also permitted customers and brands to have meaningful dialogue. In early 2006, noted tech gurus Robert Scoble and Shel Israel wrote about the power of blogs to "humanize communication, bringing companies and their constituencies together in a way that improves both image and bottom line" in their book Naked Conversations.
As Facebook was still available only to students at selected universities and Twitter was in development, blogs (fueled by comments) were the best way that brands could facilitate conversations with their customers, fans and prospects.
The social-media boom
Fast-forward to 2012 and the social-media landscape is fragmented—growing and evolving every day. Before your brand has time to set up a profile on the newest social-media site, another site emerges. Diverse audiences engage with each platform differently, and many of your brand's audiences have audiences of their own. Blogs are still prominent today, but the approach to driving a conversation is very different.
Has conversation left blogging?
Given the presence of so many social outposts on which to engage with a brand's audience, the idea of hosting a valuable conversation in a blog's comment section seems antiquated. Matt Gemmell has argued against having comments at all, namely because they don't contribute much valuable information, are used by only a tiny minority, and enable anonymity, which  can lead down some dark paths. Seth Godin, perhaps the most prominent marketing blogger, does not permit comments.
Are comments really conversation?
The argument is not about whether having a conversation with an audience is valuable. We know it is. But while blogs are still effective in regard to content marketing (you're reading one now!), this doesn't mean that in 2012 (and beyond) they're still the best place to have a dialogue. Even though we have more-advanced commenting systems, like Facebook Connect and Disqus (which this blog uses), the conversations aren't always fruitful. Some commenters comment and never return; others just want to agree with the author; others are there to promote their own content; and a few are there simply to spit venom. With so much noise, what's a blog to do?
Don't delete just yet
While there are numerous arguments for canning your comments right now, not everyone agrees. Matthew Ingram at Giga-Om believes that comments are still worth the effort, and even though Mitch Joel may be on the fence, he still allows and responds to comments every day. If you take a scroll down the page, you'll notice that we still allow comments too. It's not a mass exodus just yet, and reports of the death of blog comments (like those of the death of email marketing) may be an exaggeration.
It's all one community
As a community manager, presumably in charge of all your brand's outposts, you must understand the goals of each of the channels and design your content-marketing strategy according to those goals. An engaging and effective community requires two-way communication, but maybe your blog isn't the best place for that. Maybe Facebook is the best place to create a conversation thread about your content. Many email-marketing services enable seamless integration between newsletters and Facebook, so a conversation that's open to the community is started as soon as your email is sent.
Whether your blog is teeming with comments or completely barren, it's important to understand in exactly which channels you can moderate the conversation most appropriately, fruitfully and effectively. It's not a sin anymore to have your blog act as a one-way channel for your brand to use to post articles and resources as long as you're listening and responding to the conversation wherever it is happening, whether a reader replies at you, writes their own blog response or even sends you an email.
My take
As community manager for Post-Advertising and author for a number of other blogs, I fear that comments are on their way out. I'm not ready to shut the function down, but the sadness I used to feel when a post I spent hours writing didn't receive a single comment is far more subdued now. I share my articles on a number of channels, and some conversations happen there instead of here. When the article is shared by others, it's a sign that at least the reader felt there was enough value in the article that their networks would benefit from reading it, and that's a form of feedback. The landscape has changed so much that the notion of conversing with your audience is quite different, and blog comments aren't as necessary. Don't get me wrong; I still love getting a high-quality comment, even if it's a dissenting opinion. But receiving comments has fallen off as a measure of success.
So let's hear it in the comments (joke intended)! Are you commenting more or less on blogs than you used to? Are you receiving more or fewer comments on your own blog than you used to? Do you comment elsewhere?
(Image)