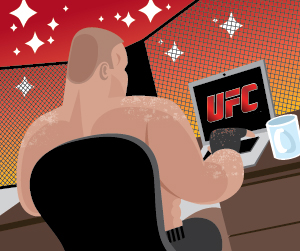 The year was 1993. I was sitting in my middle-school homeroom class when a friend revealed that he had brought in a VHS of the Ultimate Fighting Championship (UFC). We had watched plenty of martial arts movies—my favorite being Jean-Claude Van Damme's Bloodsport—in which martial artists of various disciplines from around the world gathered in one place to find out which martial art was supreme. Finally, someone wanted to play this story out in real life. I borrowed the tape and watched it when I got home. I was captivated.
Fast-forward to today and the UFC is one of the fastest-growing sports organizations in the world; yet with staunch opposition from certain politicians, lack of licensing in all 50 states (after nearly 20 years of existence, mixed martial arts is still illegal in New York State) and common public misconceptions, the sport itself is still very niche. The majority of events air only on pay-per-view, and unlike in the case of major sports organizations, such as the NFL, NBA and UEFA, fans rarely have the opportunity to see an event live if they live outside Las Vegas.
Despite all those hurdles, the UFC has grown into a billion-dollar organization with a passionate worldwide fan base. (The UFC has hosted events outside the United States, in Canada, Japan, Brazil, England, Ireland, Germany, Australia and Sweden.) What exactly is fueling all that growth? The UFC's downright mastery of content marketing. From its outspoken, shoot-from-the-hip president, Dana White, to a companion reality show, the company has wholly embraced content for the long haul.
Round 1
The sport, properly known as mixed martial arts, had tumultuous beginnings. While the first official event, in which 180-pound Brazilian Brazilian Jiu-Jitsu ace Royce Gracie forced all his opponents into submission, was considered a success (there were more than 80,000 purchases of the $14.95 pay-per-view), the creators of the UFC never intended to establish a series of events, much less a sport. To have any kind of future, the UFC had to evolve the sport itself. It distanced its brand from what Senator John McCain called "human cockfighting" by introducing weight classes, time limits, four-ounce gloves (instead of bare fists) and stricter rules that would govern the sport.
By 2000, sanctioning had taken its toll and the Ultimate Fighting Championship was on the brink of bankruptcy. In January 2001, Lorenzo and Frank Fertitta, along with Dana White, purchased the UFC for $2 million. The Fertittas and White set out to turn the UFC around, namely by securing big-name sponsors and getting them sanctioned in Nevada, where the Fertittas were executives at Station Casinos. Within ten years, the UFC would reportedly be worth 100 times their investment (though the company is still private, so there's no definitive net worth).
As "Reality" As It Gets
As it turns out, the road to recovery was long. As recently as 2004, the UFC was still incurring losses ($34 million, to be exact). Only then did the UFC embrace content marketing in earnest. In 2005, the UFC fronted $10 million of the production costs to create a reality show on Spike TV titled The Ultimate Fighter, in which 16 fighters (eight divided between two weight classes) lived together in a house, trained together and competed against each other for a coveted six-figure contract to fight in the UFC. The popularity of reality TV and the rare look inside mixed martial arts proved a formula for success, even being credited by White as having saved the UFC. The show now is in its 15th season—also its first "live" season, meaning that fights are shown in real time, every Friday night. It also produced a web-only season in Brazil with notable Brazilian coaches and Ultimate Fighting Championship veterans Vitor Belfort and Wanderlei Silva. The reality franchise has since moved to the FX channel as part of the UFC's recent deal with Fox.
Giving audiences a look behind the scenes is what has made social media and content marketing so successful for brands, particularly sports brands. The Ultimate Fighter allowed passionate mixed-martial-arts fans to get to know the fighters on a deeper level (for better or worse). The UFC has embraced its fans' desire for "all access" while building excitement about upcoming events by creating a series of video blogs featuring Dana White. The series has produced more than 75 videos, creating nearly 24 hours of free content for little cost (the videos are made with a consumer-based camera with limited editing). All the videos are featured on the UFC's branded channel, which has been viewed more than 323 million times and boasts more than 373,000 subscribers.
Language in the video below is NSFW.
Long Form Content
Each fight in the octagon features two fighters – two men or women with their own stories, own families, and own reasons for fans to root for them. Leading up to each major card, the UFC produces a show titled UFC Primetime which documents the two main-event fighters during their training camp and creates a three-episode series that creates a deeper understanding of who the fighters really are. This type of long-form content has been extremely successful for the UFC, essentially creating a 90-minute advertisement (available on the FX channel and on the UFC's YouTube channel) for the fight. When a fan has invested that much time getting to know the fighters, it's hard to not know how the story ends. If they don't buy the pay-per-view, it's like turning off the movie right at the climax.
Leading the Twitter Scorecards
Social media has been a game changer for sports, of course, but many organizations are still leery of their players' using the platforms. Meanwhile, White has created an incentive-based social-media program that, every quarter, monetarily rewards fighters who made the most of social media. The award categories so far are Most Followers, Highest Percentage of Growth in Followers and Most Creative.
The UFC's own Twitter account boasts 613,000 followers, but that's nothing compared with White's 2,000,000-plus. White is extremely active on Twitter and is known for spending time responding individually to fans and foes alike (tweet him this article!). One video blog featured White tweeting a special cell phone number that followers could call to give their predictions for the fights that night. When White talks about the importance of creating a dialogue through social media, he means it. His approach is unique, controversial, endearing, memorable and strictly for the fans.
Fights on Facebook
The UFC is making all the right moves on Facebook. Besides regularly publishing videos, pictures, articles and more to 8 million–plus fans, the UFC is determined to squeeze every bit of functionality out of Facebook. It has made social-media history by streaming preliminary fights (those not shown on the live card, even on pay-per-view) free (though at a steep cost to the UFC), directly on its Facebook page, in full high definition. The approach has secured hundreds of thousands of additional likes and created an entire other marketing avenue for its matches.
The Ultimate Fighting Championship has embraced content marketing wholeheartedly, enabling fans worldwide to embrace a brand through a constant stream of content and social-media access. As the UFC continues to grow as a media empire, the sport in general will follow suit. It's only by granting this sort of in-depth access to content and people that the UFC has been able to nip at the heels of larger sports organizations. It's also forcing boxing into near obscurity (can you name one professional boxer?).
Are you a fan of mixed martial arts and the UFC? What do you think of its content marketing and social-media efforts? What are other sports organizations doing to keep up?