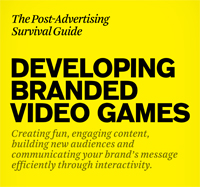 The video-game industry is growing by leaps and bounds, and the software used to develop games is cheaper, easier to use and accessible to everyone. The 21st-century game developer doesn't need a $500 million budget, a special seal of approval from Nintendo or to go through the bureaucracy of console manufacturers to get his game published. All he needs is the proper software, his own device to test on and the talent to make his game come to life.
Ten years ago, games were accessible only in selected places (game consoles and computers). But these days, games are everywhere. From the Internet to your pocket, games are never more than a few millimeters from their players. The widespread availability of games allows small start-ups, individuals and brands to create games that stand out just as much as those created by the big game manufacturers.
How can brands take advantage of this growing phenomenon? By taking the initiative and the risks to develop games, and by making their games distinctive. This document is a how-to guide to making great games and helping them stand out. Luckily, the industry is established and has decades of tempered learning and success stories. Brands have a distinct competitive advantage in developing games because they have the budgets to produce wonderful ones and can deliver them free because it's great marketing. But they have to make sure that branding doesn't kill the fun. How can you carry off brand objectives with great games that people love? That's the purpose of this e-book.
cforms contact form by delicious:days
*If you're using Chrome or Safari, after submitting the form choose File > Save As to save the PDF.
Please note: Your information will always remain private and we'll never share with third parties. By downloading this eBook you are opting in to receive Post-Advertising related content. You can unsubscribe at any time, though we hope you won't!