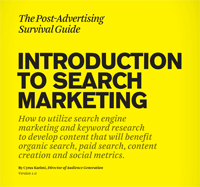 Search marketing, both organic and paid, is extremely important to digital marketers that want to increase their presence online. A seemingly endless number of users are out there searching for your brand, products, services, etc., using search engines such as Google and Bing. Because of this, there is a major opportunity for your brand to use search marketing to expand your audience and market share. But the question arises: are you doing everything you can to be found by these search engines?
It's not enough in today's competitive landscape to simply have a static brand site. In order to outrank your competitors, you must be committed to steady content and a strong social media presence. Organic and paid search should also be working in lockstep to maximize efficiencies, discover valuable user search habits and inform call-to-action messaging that can be used in content development.
Just as important, search marketing should always be grounded in keyword research. Keyword research should be not a one-off project but something that is done regularly, as users have altered their search behaviors over time, searching for new keyword combinations, longer keyword phrases, etc. This should simply be a core aspect of every content-development initiative your brand takes part in.
In this e-book you'll learn the steps necessary to create an effective search-marketing strategy that will help your brand rise to the top.
cforms contact form by delicious:days
*If you're using Chrome or Safari, after submitting the form choose File > Save As to save the PDF.
Please note: Your information will always remain private and we'll never share with third parties. By downloading this eBook you are opting in to receive Post-Advertising related content. You can unsubscribe at any time, though we hope you won't!