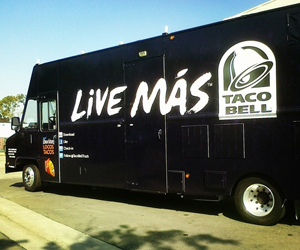 Food truck fanatics, hold on to your tongues: Fast-food giants from Sizzler to Taco Bell to Jack in the Box to Applebee's have fully functional food trucks parading down streets across America. Some just hope to capitalize on the current food truck trend, while others predate it. Should supporters of what some might call authentic food truck culture—the kind incubated in Portland, Oregon; Los Angeles; and other cities—be worried about these flirtations by the big-timers they already vie with every lunch hour?
An increasing number of quick-service restaurants are looking at the medium as more than just an agile promotional vehicle for products and locations—a view that could spell trouble for independents. 
But, instead of being considered a threat to the carefully cultivated culture's longevity, could the increased presence of national brands (as documented by AdWeek) just be a harmless, but telling, aftereffect of a new marketing approach's success?
One thing's for sure: The wild success of certain food trucks is no fluke; it's in no small part due to a breaking from the marketing conventions of larger chains in favor of a nimble, post-ad-approved approach. Mobile or brick-and-mortar, there's plenty for businesses small and large to learn.