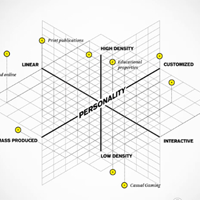 BREAKING NEWS: Storytelling is the most engaging way for a brand to interact with consumers.
OK, that's hardly a new point of view, although you'd be excused for thinking so as it's recently gained new cache through the wise words of Tom Peters, IBM's Jon Iwata, Tom Foremski, Levi's jeans, and many others.
The Storytelling Matrix, however, takes the science of storytelling to new levels of sophistication and complexity. Ready to find out how deep the rabbit hole goes?