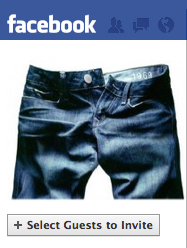 On the heels of a logo switcharoo that set the internet ablaze, Gap recently caused a commotion in the location-based marketing world with a campaign to give away 10,000 free pairs of jeans at U.S. Gap locations. Unfortunately, the commotion was coming from the thousands of annoyed customers on the wrong side of the geolocation/smartphone learning curve who were ultimately left puzzled and pantless.
Just two days prior, Facebook CEO Mark Zuckerberg had announced a feature integration with Facebook Places called "Deals" which allows businesses big and small to offer unique promotions when users checked into their location — er, I mean, place — on a mobile phone. Gap was on the initial list of 21 businesses, including 24 Hour Fitness, McDonald's, the University of Nebraska, and the San Fransisco 49ers, that were planning deals in the coming weeks. Gap was brave enough to be the first (of record).
The Gap Free Jeans Giveaway Event was fairly simple on the surface. A public Facebook Event invited customers to check-in at any U.S. Gap location using Facebook Places. Customers were instructed to show their check-ins on their mobile devices to any Gap employee to receive a free pair of jeans (worth $59.50 or less). If they weren't one of the lucky customers to earn a free jean coupon (first come, first served, and stores were given very limited amounts), they were given a 40% off coupon — a pittance for someone convinced their Facebook addiction was about to land them free denim.
The event details even included links to learn about Facebook Places, Facebook Deals, and how to access Facebook Places on web-enabled devices, iPhones, and Android devices.
However, with a quick glance at the comments section of the Facebook event's wall it was plain to see that many of the Facebook hopefuls had absolutely no idea how the promotion worked.  Though this comes as no surprise.  According to the Pew Research Center, only 4% of Americans use location-based applications like Places, Foursquare, and Gowalla, and only 1% of Internet users are using these services.
The event wall was filled with thousands of comments (as frequent as 5-10 per minute) featuring confused Facebookers typing the words "Checking In" in hopes that somehow they would receive free jeans. I can't say for sure how they expected to receive those jeans, but this wave of confusion was no doubt going to crash like a tidal wave.
There were some big problems here. Neither Facebook Places nor Deals work on a Blackberry yet (they do now, nearly a week after this event). What's more, the secondary instructions, including any mention of mobile smartphones, were below the fold. So users had to click "See More" to get the skinny on the free jeans deal (pun intended).
Disgruntled customers also took to the event wall to complain about what they deemed "bait and switch" tactics with claims of being one of the first few to arrive yet Gap employees had no jean coupons left. With only 10,000 free-jean coupons spread across 1,000+ U.S. stores, there was no getting around the fact that many customers would be left unsatisfied.
What alarmed many marketers on Twitter, including me, was the notable absence of a Community Manger for Gap that could have responded to this strange turn of events. Who was minding this event page? Was anyone listening? More importantly, what is the negative ROI that comes from ignoring your customers?
This leads me to wonder whether or not both coupon-hungry Facebookers and businesses are ready for the confused masses to descend upon their "Places."   Gap was either not ready or not interested enough to dedicate even one person to monitor their social channels for complaints or concerns, particularly their Event page. Lest we forget: Consumers control brands. Ignoring them isn't an option.
(And yes, I did get a free pair of jeans!)