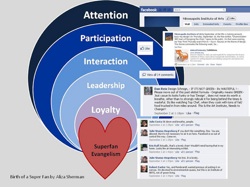 Attracting fans with flash is great, but maintaining and supporting a vibrant online community requires deep self-evaluation and a lot of hard work. How will you communicate with your audience? What kind of content do will you give them? How will you inspire conversation?
At Story Worldwide, we've managed Facebook accounts for some of the world's biggest brands, and we've figured out a few things along the way.
We're proud to announce that a summary of our strategic learnings is available in our very own "Best Practices for Audience Management Thru Facebook." It's a living, breathing collection of wisdom on the world's most popular online social network. Check it out after the jump…
We've designed this eBook to help brands build real and thriving online communities of interested, excited brand loyalists and advocates. With instructions on how to publish content that people really want and how to manage audience interaction in real time, it will take much of the guess work out of implementing a social media plan.
Download the Facebook Audience Management e-Book!
cforms contact form by delicious:days
*If you're using Chrome or Safari, after submitting the form choose File > Save As to save the .PDF.
Please note: Your information will always remain private and we'll never share with third parties. By downloading this eBook you are opting in to receive Post-Advertising related content. You can unsubscribe at any time, though we hope you won't!
PHOTO CREDIT: Beth Kanter /flickr.com