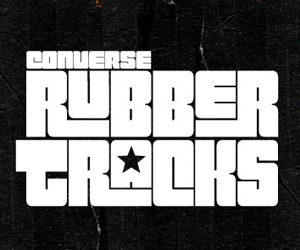 When we think about brand storytelling, we often imagine a brand as defined by its history. But how many brands pay homage to their histories? Especially those that have fluctuated as greatly as Converse's?
Converse's story began with great success. With a distinct American image and near stranglehold in athletics — particularly basketball — Converse ruled the feet of teenagers and young adults in the '50s and '60s. But new players like Nike, Puma, and Adidas appeared, slicing at its market share and innovating the field to the point that Converse lost its NBA sponsorship and ultimately was forced to file for bankruptcy in 2001.
Usually this would be the death knell for a shoe company — but not for Converse. In 2001, Converse was purchased by Footwear Acquisitions (and ultimately sold to Nike). From what must have seemed like the depths of despair, Converse embraced music, arts, and skateboarding and "celebrated the sprit of rebellion," elevating the brand so high it became an icon of pop culture.
To honor this rebirth and the music and arts community that now embraced a once-fledgling basketball sneaker, Converse built Rubber Tracks — a state-of-the-art community-based recording studio in Brooklyn, N.Y., that let new bands the record their songs in a high-quality studio at no cost. Artists could even promote their music on converse.com and through the brand's social media channels.
At Story, we encourage our clients to become the content channel instead of sitting adjacent to it. It's the keystone of content marketing. However, there's content (like this blog post), and then there's content (like building a recording space and creating music that will change lives). Wow.
Even before Rubber Tracks, Converse has done a great job solidifying its social footprint. You might expect the brand to be content with its top-quality content spread across multiple channels and more than 19 million Facebook fans. But Converse wouldn't settle.
Instead of reclining in the La-Z-Boy, Converse invested back to the same community that helped shape its brand story as we know it today, which ultimately is helping it shape its own story moving forward. It created an ultimate owned channel that will, undoubtedly, attract and charm new fans.
In the introduction video below, artists, producers, and engineers talk about their first experiences in music recording. It brings to light the wild juxtaposition of most bands' forays in music recording and the opportunity that Converse now provides emerging artists.
We can't know yet if Rubber Tracks will produce chart-topping hits, but it really doesn't matter. Converse has given musicians the chance to create the best art they can…and simultaneously is creating passion-filled branded content.
What do you think? Was this a smart investment? Can you name any other brands that have created owned channels like this?