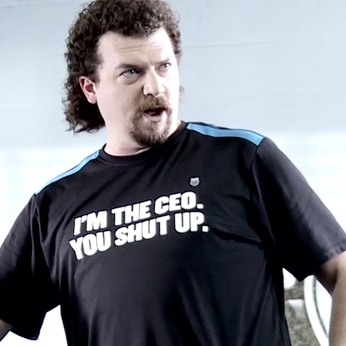 The world of athlete sponsorship has long been dominated by sweaty men and women exercising in slow motion. K-Swiss is taking a different approach to brand storytelling in their attempt to get into the training shoe market. And that approach is Kenny Powers.
Kenny Powers, played by Danny McBride, is a fictional character on the HBO series "Eastbound and Down" known for his aggressive behavior and incessant cursing. Not quite the typical mascot for a company. But K-Swiss is proving that they don't like to do things by the books. The campaign debuted last year with a 4-minute video for Funny or Die (NSFW) in which Powers negotiates with a roomful of K-Swiss executives for an endorsement deal with K-Swiss Tubes. After buying 51% of K-Swiss stock, Mr. Powers has a new position—Mother F**king CEO—and their latest extended length commercial, just like Kenny, is like nothing you've ever seen.
Just a fair warning: This video is definitely NSFW. The videos are laced with profanity, misogyny, violence, and general debauchery – all the ingredients of a viral YouTube video garnering well over a million views. They do have a SFW version, however to no one's surprise it's only attracted less than 50,000 views.
While we here at Post-Advertising have thoroughly enjoyed these videos, it's understandable that many people will find the campaign offensive. K-Swiss is not deluding themselves into thinking that Kenny Powers is a mascot for the masses. In a smart move, K-Swiss has created an alternative Kenny Powers version of their main website , which further establishes the connection between the character and the company without completely jumping ship on their former image. The Powers version opens with a fiery explosion (were you expecting anything less?). The design is dark and menacing, but with an air of sarcasm and self-mockery. Buttons for men's clothing change to "Bros," "Privacy Policy" becomes "Boring" and "Register" becomes "Sign the F Up." This is a unique way of entertaining their target audience – athletic college students and young people – while not losing their other customers like those who rely on K-Swiss for their pure white tennis shoes.
In placing so much stock in Kenny Powers, K-Swiss aligned with HBO. They have not watered down the character at all, which gives them credibility among fans. In fact, the brand agency responsible for the new campaign – 72andSunny – has loaned out one of their writers to "Eastbound and Down" for its new season. The mutually beneficial relationship aims to drive viewership to the HBO program while attracting KP fans to K-Swiss.
Matt Murphy, Creative Director for 72andSunny told WIRED, "We didn't want to just attach the brand to Kenny, but build a relationship over time." With hilarious original content and a tie-in with a popular television show, this relationship could prove to be long-standing.
The campaign definitely gets our Post-Advertising stamp of approval. It's unique, entertaining, shareable, and stretches across multiple media channels. But what do you think? Will K-Swiss's use of Kenny Powers ultimately help or hinder the brand? What other brands have used an anti-hero as their spokesman?