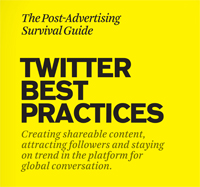 The global convergence of mobile, social and computer technologies is well on its way to putting a smart wireless communication device in every pocket. What will it mean for society when anybody on Earth can connect instantly with anyone and everyone? Nothing offers a better glimpse of the bold new future than Twitter.
Twitter allows individuals and brands to express their thoughts, famously and arbitrarily limited to 140 characters, to anybody who opts in to hear them. Only through Twitter can you direct-message Khloé Kardashian, your cousin in Austria, a barista at your local Starbucks and the President of the United States (if he follows you back).
For brand managers, Twitter enables real-time communication with your globally distributed audience. You can get access to the worldwide water-cooler conversation and find out what the world is saying right now about your brand. You can reach out directly to pump up your advocates, talk down your detractors, correct misconceptions, announce new products and upgrades and generally add to the conversation.
But a word of caution: Because your missteps reverberate around the world at the speed of light, mastering this powerful, impulse-driven, real-time communication system requires some expertise and subtlety.
That's what this guide is for.
cforms contact form by delicious:days
*If you're using Chrome or Safari, after submitting the form choose File > Save As to save the PDF.
Please note: Your information will always remain private and we'll never share with third parties. By downloading this eBook you are opting in to receive Post-Advertising related content. You can unsubscribe at any time, though we hope you won't!