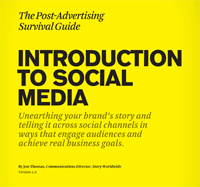 Social media has emerged on the marketing landscape and quickly helped redefine how brands market to today's always-connected consumer. Tools like Facebook, Twitter, Google+ and Instagram have created two-way avenues of communication and media sharing between brands and their audiences. The possibilities seem endless, and many brands that have yet to embrace these tools are peering down off the edge of the diving board, ready to make a big splash. But it's not that easy.
Many social-media tools are free to join, simple to use and growing in number of users every day. But that doesn't mean they come without cost or that they don't require strategy. Effectively introducing your brand into the social-media universe means first knowing your brand's story, establishing goals, understanding your audience and committing to always-on content creation and audience management. 
There's no single road to social-media success. This e-book will help you define the path that works best for your brand. 
cforms contact form by delicious:days
*If you're using Chrome or Safari, after submitting the form choose File > Save As to save the PDF.
Please note: Your information will always remain private and we'll never share with third parties. By downloading this eBook you are opting in to receive Post-Advertising related content. You can unsubscribe at any time, though we hope you won't!