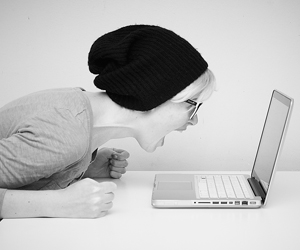 It gave me the creeps. It annoyed me. It even made me a bit angry.
I saw that a Facebook friend of mine had commented on an FM radio station's page (that I was not a Facebook fan of). The post included a slightly distorted image and promised that my mind would be blown if I just typed the word Club in the comment box. 
The post had been commented on more than 1.6 million times, shared more than 4,700 times and Liked more than 80,000 times. Surely something had to happen when I followed the instructions.
Nothing happened, and don't call me Shirley. What the heck was going on?
Of course nothing happened. It wasn't a glitch in Facebook. It wasn't human error. It was intentional, and it's pathetic.
Page managers (with little talent in social media) have caught on to the fact that engagement in the form of Likes, shares and comments has become a social currency of sorts. They trick users into engaging because it (falsely) informs Facebook that a brand page is relevant. And the more relevant Facebook thinks it is, the more often it will show up in any given user's Facebook feed and the feeds of their friends, thus creating awareness.
As fans see only, on average, 10 percent of any given brand's posts (unless you want to pay, of course), there are brand-page owners out there willing to do anything to gain fans and increase engagement metrics.  
These tactics aren't the only abuses page owners commit. Here are four other Facebook tactics you'll want to steer clear of.  
Repetition
(courtesy of Condescending Corporate Brand Page) 
Don't fall for it. They don't care if you can type 'P-L-A-Y' without interruption, and even if you do, there's no prize. They just want your comments…lots of them. 
Guilt
Is there a better way to expose your audience as nothing more than a bunch of metrics than to ask for responses that will have absolutely no consequence? Of course there is—emotional blackmail! You can make them feel even more appreciated by saddling them with guilt if they don't take action on your page. Granted, this is not a brand (it's one of those vague phrase pages—why do these even exist?), but it is a prime example of what not to do to engage audiences. 
Broken Promises
(courtesy of Condescending Corporate Brand Page)
Only, when they say it will stop her tears, they mean it will definitely not stop her tears. Kia's End Poverty Campaign should be lauded, but unfortunately, tactics like this overshadow it. 
False Voting
This is much lesser offense than the rest, and Major League Soccer overall does a good job with their social presence, but it is still a misuse of Facebook functionality. Pitting Likes against comments can't possibly create an effective debate between two camps. Having your fans vote can prove to be a fun engagement, even if you don't use the polling function, by simply asking users to comment with their choice. Try to get a real discussion brewing in the comments and ignite passionate debate between the opposing sides.
A few of these examples are from Condescending Corporate Brand Page, which does a fantastic job of exposing what not to do on Facebook. So give their page a Like, because if you don't, that means you love global warming. 
What other poor Facebook tactics have you come across? Let us know in the comments.