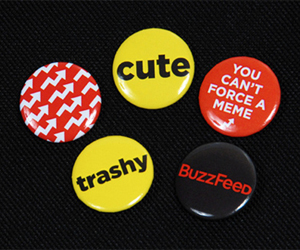 OMG. This may have been my hardest assignment yet. 
BuzzFeed is killing it on the interwebs lately (WIN), and not just because it creates some of the most shareable content around. It's "killing it softly," so to speak, monetizing its wildly successful site by partnering with brands to create branded content that people actually consume, enjoy and share with their audiences.
But why was this a difficult assignment? To write about BuzzFeed means one has to peruse BuzzFeed. And when one peruses BuzzFeed, time is sucked into a vortex while one reads journalistic masterpieces like "40 Reasons Honey Boo Boo Became a National Treasure in 2012" and "12 Days of Grumpy Cat Christmas." Minutes quickly become hours, and deadlines come and go. But Grumpy Cat doesn't care.
They Know What's Hot
Founded in 2006 (which makes it older than Twitter) by Jonah Peretti, who also co-founded the Huffington Post, BuzzFeed is a content-sharing powerhouse. Its posts, most often featuring photos and small amounts of humorous copy, are primed for viral success. Plus, the content is always timely. There may be no media outlet with its finger more precisely on what's trending. It's as if it had an IV in the veins of the web.
But aside from understanding that the primary audience that is embracing the digital age loves cats, GIFs, funny videos, more cats and the upcoming revival of Boy Meets World, BuzzFeed puts its money where its mouth is—it has no banner ads. None. If you haven't noticed, go back and look. It's pure content and a few sharing buttons. You don't even have to navigate away from the homepage. The site scrolls endlessly downward, revealing more content each time a visitor reaches the end of the page.
Monetizing Content, Not Interruption
So how does BuzzFeed make money off its 30 million unique monthly visitors without interrupting audiences? By partnering with brands to create interesting, shareable content that looks and feels like content visitors would want to share because it is content visitors will want to share. This might be the definition of native advertising we've been searching for. This approach to native advertising has generated what industry sources say is close to $20 million in 2012 alone. 
Because the content on BuzzFeed has a high viral coefficient (the content is likely to be shared), most visitors don't come in through the homepage. Instead, they are sent directly to BuzzFeed articles recommended by friends or colleagues. This was my experience when I happened on a funny article entitled "20 Things You Didn't Know Were Illegal" in which I learned that Silly String is banned in Southington, Connecticut, a town about 45 minutes away from my house. 
Before I shared the article with my fellow Connecticut residents, I noticed that the post was presented by Discovery Channel. The content was so good and the branding so covert (yet strategically placed) that I almost didn't recognize it as branded content. Even when I did, I still shared it, because the content was that good (and relevant to my audience, some of whom live in Southington and apparently have to go out of town to buy Silly String).
Out Of Your Face Branding
BuzzFeed's partner pages are uniquely designed to cater to brands without sacrificing quality or BuzzFeed's own branding. Below the article title is a short write-up connecting the page content to the partner (in this case, to the illegality of moonshine, as featured in the Discovery Channel's new season of Moonshiners). Clicking on the Discovery Channel icon/link below the description brings the reader to a page that collects all Discovery's featured posts atop a branded backdrop. On the right sidebar of the featured post (where ineffective banner ads would normally appear) is a Discovery Channel Facebook fan box where readers can easily "like" Discovery Channel's page as well as Discovery's Twitter feed. It's tastefully done—promoting the brand and helping expand the brand's social following without sacrificing BuzzFeed's brand integrity.
Branding aside, what most endeared the partnership to my advertising self was how on-brand the content was. It fit the Moonshiners story (brewing moonshine is in fact illegal, as the show explains) without feeling forced or inauthentic. The same goes for other brands, like Velveeta, HBO and Old Spice, whose posts were good enough to share without getting that yucky "I just shared branded content" feeling.
Defining the Future of Advertising
We firmly believe that the future of advertising will leave the age of interruption behind. As more content providers create real, tangible partnerships with brands that benefit all parties (including the content consumers), those who are promising only eyeballs and exposure will find their customer base dwindling.
We still advocate that brands have a strong commitment to creating content on their own channels, but BuzzFeed has provided an effective blueprint for brands that want to tap into existing audiences without simply getting in their way of good content. 
Image via BuzzFeed Store